How to look after your dog's paws in the winter
In the same way that the winter weather can affect our skin, it can also be problematic for your dog. The mixture of snow and ice can make your dog's paws dry or cracked while the chemicals used to fight the elements can even cause burns.
Chances are you're wearing plenty of layers to protect yourself from the cold but protecting your pooch and keeping them safe on winter walks is just as important. Here are some top tips on looking after your dog's paws in winter.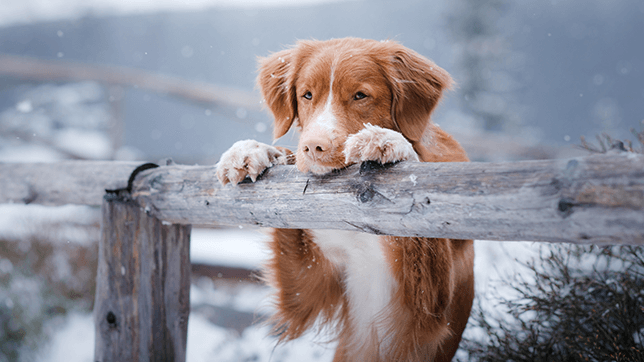 Regular grooming
First of all, you'll want to make sure your dog's paws are winter ready. Trimming long-haired dogs will help make it harder for bits of ice, salt crystals or other chemicals to dry and irritate their skin. Cutting the fur between their pads can prevent a build-up of snow on their paws to make it easier for them to walk in the cold.
Regular cleaning
Once you get home from your walk, towel dry your dog and check their paws for any snow, salt or grit that might be stuck to their fur. This will help get rid of any toxic residue that your pooch could accidentally consume while grooming themselves.
We know it might be tempting to dip your dog's paws in warm water once you're in from the cold but bathing them too often in the winter months can actually remove important oils that protect their pads.
Short dog walks
In winter, frequent shorter walks are better for you and your dog to help reduce your exposure to the harsh climate. If your pooch shows signs of discomfort from the cold, such as picking up or licking their paws, whining or shivering, you should take them home.
Dog boots
Just as wearing boots or wellies in the winter protects your feet in winter, dog shoes can help prevent injury and add an extra layer of warmth against the cold. Good quality dog boots can provide a nearly impenetrable barrier against sharp ice, snow, salt and nasty chemicals while giving your dog extra grip when it's needed most.
Make sure the boots you choose for your dog are:
Lightweight
Easy to get on and off
Adjustable to ensure a good fit
Made from durable, waterproof but breathable materials
Easy to clean
Nonslip
Remember: While your pooch may not like the boots to begin with, with time and patience, you can train your dog to love wearing their new shoes.
Use paw balm
While paw balms won't be able to protect your dog from sharp ice or debris, they can help form a protective barrier against chemicals and prevent snow from clumping between their paw pads and toes. Some paw balms may also contain ingredients that help moisturise and soothe your dog's paws once they're back in from the cold.
How to check your dog's paws
If you notice your dog is limping or not applying the usual pressure to their paw, it could indicate that they're experiencing some discomfort. Always:
Check each paw for any cracks
Examine the paws for blood or lesions
Check between each pad
Contact your vet if you're concerned about your dog's paws.
How to treat cracked dog paws
If your dog's paws are only slightly cracked, you might be able to treat them at home. Firstly, gently clean the affected area, and then simply apply your chosen moisturiser or paw treatment to help keep them healthy and hydrated.
Winter walks aren't always so magical when the colder weather strikes but no matter the temperature, your dog will still have plenty of energy to burn! Check out more advice on exercising your dog safely in winter here.
Find the information you need as we support you through every step of your journey with your canine companion.
Dog insurance can help cover the cost of veterinary treatment if your dog gets injured or falls ill.
We know pets
Animal Friends Insurance is a multi-award winning FCA-regulated pet insurer, founded in 1998 to provide industry-leading pet insurance and first-class animal care to create a better life for every animal.
As one of the UK's largest pet insurance providers, Animal Friends works with vets, veterinary professionals, and partners pioneering the latest veterinary technology & healthcare advancements to achieve our vision.
Our policyholders have helped donate over £7.8 million to more than 700 animal charities worldwide and by educating and inspiring others to act on current events and responsible pet ownership, Animal Friends is driving positive change for animal welfare and conservation.