5 top tips on how to wash your dog
Bathing your dog is an important part of grooming your pet but it can be quite difficult if your dog's not a fan of the process. Regular grooming helps keep your dog's coat clean and healthy, just as we look after ourselves.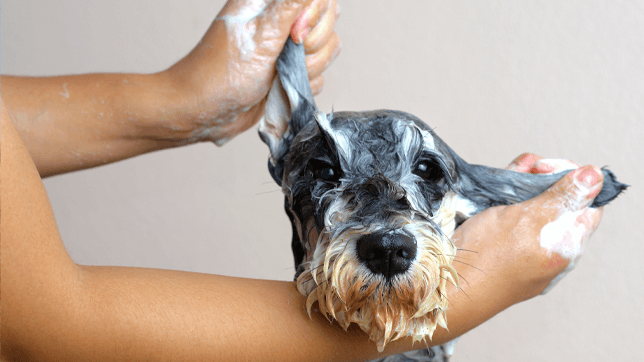 Here are some top tips on how to wash your dog while making it a positive experience for the two of you.
Never underestimate the power of treats
Smearing some peanut butter on your bathroom tiles can be an amazing distraction from the wash they're having.
If your dog isn't having any of it, then don't be afraid to start from scratch and get them used to an empty tub or wash area without washing them.
Give them a treat every time they come to you, the bath or the wash area and they'll soon come without a treat and even when the water's running.
It's best to start them young
The sooner you start a bathing routine and schedule, the better. It's not always possible, especially with rescue dogs, but getting them used to it early on will help you encounter less trouble later.
Make sure what you need is near
There's nothing more frustrating than showering your dog and realising the shampoo is downstairs or that the towel's out of reach. Making sure that everything you'll need is within reach will make it a smoother experience for you and your dog.
Work from the neck down
Washing your dog from the neck down will help you keep their ears, eyes and mouth safe from water and avoid any unnecessary irritation. Just use a damp cloth or flannel to clean their face.
Find the right drying technique
Some dogs might prefer the full pamper experience and won't mind being dried by a dryer while others would choose a quieter approach and pick a towel.
It'll all be down to your dog's temperament and what they're used to, but make sure not to force them into a drying technique they're not comfortable with. Treats might also help with this!
Following these top tips might make bath time a little easier, but if it's too much of a challenge then you might want to consider booking a slot with a professional groomer. All dogs are different and will like things a certain way, but you know your pooch best and what might work for the two of you.
Find the information you need as we support you through every step of your journey with your canine companion.
Dog insurance can help cover the cost of veterinary treatment if your dog gets injured or falls ill.
We know pets
Animal Friends Insurance is a multi-award winning FCA-regulated pet insurer, founded in 1998 to provide industry-leading pet insurance and first-class animal care to create a better life for every animal.
As one of the UK's largest pet insurance providers, Animal Friends works with vets, veterinary professionals, and partners pioneering the latest veterinary technology & healthcare advancements to achieve our vision.
Our policyholders have helped donate over £7.8 million to more than 700 animal charities worldwide and by educating and inspiring others to act on current events and responsible pet ownership, Animal Friends is driving positive change for animal welfare and conservation.