Pet food banks
Pet food banks or parcels help people in financial hardship feed their pets, which can help prevent cats and dogs from being rehomed. Sadly, the cost-of-living crisis means that more pet owners are struggling to afford to feed their pets with animal charities and pet food banks seeing an increase in recent requests.
Amanda Broome, Founder of Animal Support Angels, a charity that delivers pet food to those in need, told us that the "increasing costs of food all round is a struggle and we are also finding owners surrendering their pets as they simply cannot afford vet treatment."
Pet Food Bank Service, a south Wales charity, told the BBC that said it had seen a 700% increase in hits on its website last month with people feeding their pets rice to get by.
No owner should have to pick between feeding themselves or their pet and we want to help make sure that's never a decision that needs to be made by helping people find their local pet food bank.
Where can you find a local pet food bank?
Whether you're looking to donate goods or are in need of food for your pet, here are some of the places that could help.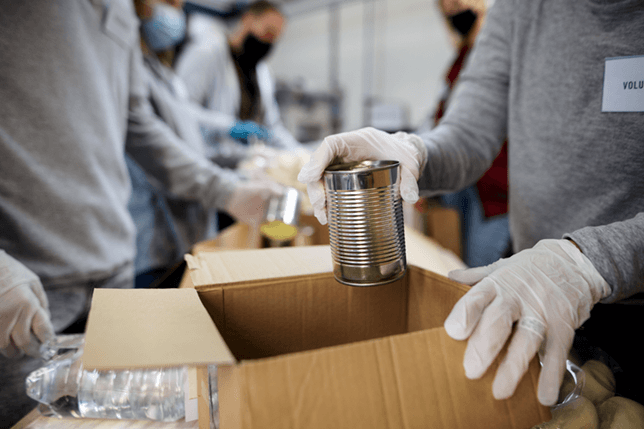 Scotland
In Scotland, The Edinburgh Dog and Cat Home offers wet and dry food, jackets, collars, leads, bowls and bedding for those in need. The charity has partnered with 50 human food banks and supported over 7,000 pets in 2021. They have an Amazon Wishlist if you're able to help them deliver essentials to pet parents across the country.
Wales
In North Wales, the Pet Rescue Welfare Association is a small charity helping local pet owners by offering free food to those who might not be able to afford to buy it themselves. All they need is a utility bill as confirmation of your address and some information about your pet to provide the right amount and type of food for free. Their Amazon Wishlist gives people the chance to give back if they're able to, allowing the charity to help even more owners in their local community.
The Pet Foodbank Service currently covers Cardiff, Newport, Caerphilly, Swansea, Gilfach Goch, Merthyr and Pontypridd and has provided over 40,536 meals for pets in need so far this year. The charity aims to prevent owners from sharing their food with their dog or cat, making sure everyone gets what they need even in difficult times.
England
Blue Cross is offering help to pet owners in and around Sheffield, Manchester and Grimsby, providing food to those who have been referred by a standard food bank.
The RSPCA has partnered with over 40 food banks across the North of England to make sure that those who are struggling can still stay with their pets whilst they get back on their feet.
What else can I do?
If you're unable to find a local pet food bank, check your social media pages, such as Facebook, to see if there are community projects set up to help people in their times of need.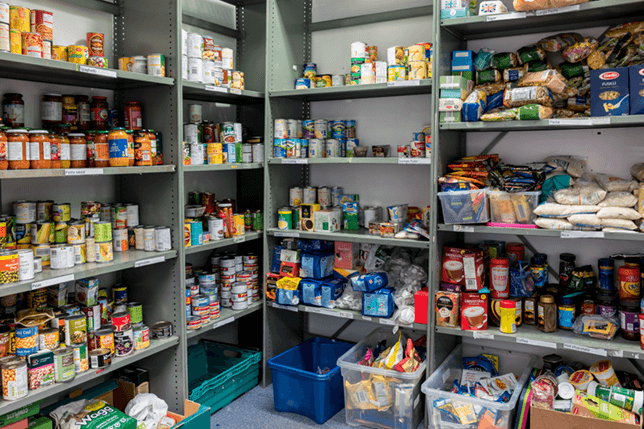 Certain charities set up collection bins in supermarkets, these are sometimes manned by volunteers who would be able to help with any queries you might have about receiving food for your pet.
It is also worthwhile checking to see if your local food bank includes pet food as part of their normal parcels for owners.
What can you donate to a pet food bank?
While you might live in an area that doesn't have a local pet food bank, you can still help! Some supermarkets, pet charities, rescue centres and pet stores have collection points set up for food, accessories, toys and other necessities.
When you're doing your weekly shop, why not pick up something extra to help dogs and cats in need?
Here are just some of the things you could drop off at a collection point:
Food pouches or tins
Dried biscuits boxes or bags
Pet beds and blankets
Pet shampoo
Some charities have an Amazon Wishlist, a quick and efficient way to get needed items shipped to them directly. Being able to donate physical items from a list might reassure some who might not be comfortable with other fundraising techniques.
If you know of any pet food banks that we can add to our list let us know by emailing charity@animalfriends.co.uk so that we can spread the word and help owners in need wherever they are.
Find the information you need as we support you through every step of your journey with your canine companion.
Dog insurance can help cover the cost of veterinary treatment if your dog gets injured or falls ill.
We know pets
Animal Friends Insurance is a multi-award winning FCA-regulated pet insurer, founded in 1998 to provide industry-leading pet insurance and first-class animal care to create a better life for every animal.
As one of the UK's largest pet insurance providers, Animal Friends works with vets, veterinary professionals, and partners pioneering the latest veterinary technology & healthcare advancements to achieve our vision.
Our policyholders have helped donate over £7.8 million to more than 700 animal charities worldwide and by educating and inspiring others to act on current events and responsible pet ownership, Animal Friends is driving positive change for animal welfare and conservation.