5 top tips for helping a dog that doesn't like the rain
We all have a preferred temperature or favourite weather, so why would our dogs be any different? After years of domesticated living, it's fair to say they might have gotten used to warm beds and dinner service and it may come as no surprise that some prefer to avoid the rain where they can.
Everything from the sound of the rain to the smell it produces can affect your pooch and since 55% of dog owners surveyed* told us that their smaller companion hates the rain, we wanted to find out why some dogs might act differently when the downpours start.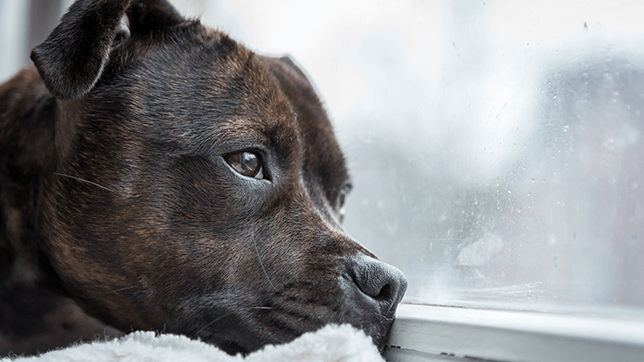 Why some dogs don't like the rain
Dogs' senses are stronger than ours, which means they can be more sensitive to rain, making a walk in the wetter weather a little too overwhelming. Since they're more aware of the changes around them, the moisture, sounds and the smells associated with a rainy day may be too much for them and can disorient them.
Any pooch that has a fear of thunder or storms may have negative associations with rain and you might notice them seek a safe spot to retreat to when they detect a change in the weather.
Or it could simply be that they just dislike getting wet!
What your dog's breed says about them
Because different dog breeds originate from distinct geographic regions from around the world, they've all evolved to have different physical traits to help them cope with the weather their ancestors were used to. Whilst it's easy for some dogs to simply adapt to the seasons, others might struggle with the changes.
Your dog's breed, where they come from and their physical traits can all have a big impact on the type of weather they're most comfortable in.
What to do if your dog refuses to go out in the rain
Here are some top tips on helping your dog get outside when it's wet.
Lead by being a good example
Dogs really do take after their owners, so if you hate the rain it's likely that your dog will follow your lead. They'll see just how much you hate getting wet, and think that they should hate it, too.
Remember: As tempting as it might be, try not to avoid wet dog walks and makes sure your pooch is exposed to all sorts of weather so they can get used to all the elements.
Play indoor games
If you can't quite manage the distance you're used to on your dog's walk, or they refuse to go out altogether, you could play some indoor games to help them burn off energy when it's raining. Playing with your pooch is a great way make sure they're happy and stimulated.
Indoor toilet pads
If your dog won't leave the house, you could use indoor toilet pads designed to make accidents easier to tidy, but this can confuse some dogs when it's not raining. You might be able to prevent this confusion with good training, but it's important to remember that toilet pads might not work for all dogs.
Create a covered area
If you can, create a covered area in your garden or on your balcony, so that they can go out to relieve themselves without getting wet. This will make things easier for you and your dog!
Buy waterproof clothing
Dog coats and jackets can be helpful if your dog doesn't like the rain on their fur while boots will help prevent wet paws! They might take a little getting used to, but your pooch may prefer them over getting wet.
Does your dog hate the rain or do they love their adventures whatever the weather? Let us know on our Facebook or Twitter page.
*Response based on a survey completed by 134 policyholders of Animal Friends dog insurance in November 2022.
Find the information you need as we support you through every step of your journey with your canine companion.
Dog insurance can help cover the cost of veterinary treatment if your dog gets injured or falls ill.
We know pets
Animal Friends Insurance is a multi-award winning FCA-regulated pet insurer, founded in 1998 to provide industry-leading pet insurance and first-class animal care to create a better life for every animal.
As one of the UK's largest pet insurance providers, Animal Friends works with vets, veterinary professionals, and partners pioneering the latest veterinary technology & healthcare advancements to achieve our vision.
Our policyholders have helped donate over £7.8 million to more than 700 animal charities worldwide and by educating and inspiring others to act on current events and responsible pet ownership, Animal Friends is driving positive change for animal welfare and conservation.