Responsible puppy buying
Getting a dog is exciting and can be one of life's most exciting adventures but don't rush to find your perfect companion without knowing how to properly pick a pup!
As part of our mission in creating a better life for every animal, we want to help you avoid deceitful breeders who see nothing but profit in the pets they sell.
Finding the right breeder
Taking the time to find a seller that responsibly breeds healthy puppies will help make sure you are buying a dog who will be given the best possible start to their life.
Welcoming a pup from the wrong breeder into your home can have tragic consequences as some might have severe health problems and usually won't have been socialised with other animals or people.
Follow these steps to so help you find a happy and healthy dog.
Call ahead
Always call a breeder first and never pay a deposit before meeting the pup and its family in their home environment. You should also never agree to meet the breeder halfway or arrange for the puppy to be delivered to you.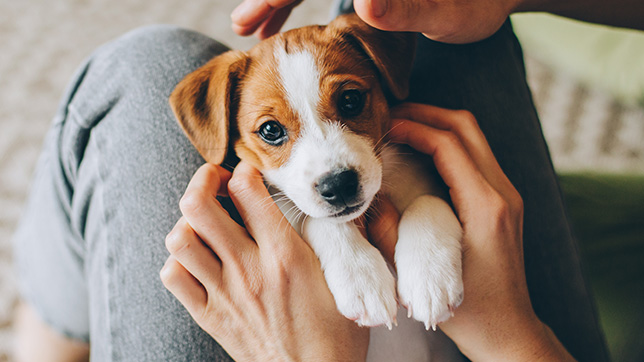 Meet the family
Make sure you're able to see the puppy interact with their mum at home. If possible, see this more than once. Deceitful sellers may try to pass off another dog as the puppy's mother, so check for signs that she has recently given birth and watch how they behave together.
Check paperwork
You'll want to see all the vital paperwork including proof of a vet check and microchipping, their vaccination card and any relevant pedigree papers. They might even give you their vet's details so that you can ask the vet questions about the litter and parents.
Ask questions
Your seller should be as interested in you as you are in them. It's good to ask questions so you can learn more about them and your pup while a responsible breeder will want to know where their beloved pup is going.
Take your time
When faced with a bundle of cute puppies it can be easy to make a snap decision, but these could lead to tragic consequences, so it's a good idea to spend some time considering your choice.
Report suspicions
Always walk away if something doesn't look or feel right as this is the best thing you can do for you and the pup.
If you have any concerns for the welfare of any of the puppies you have seen, please call the RSPCA on 0300 1234 999.
Petfished
Do you really know the person behind the advert?
The Government's Petfished campaign can help make sure your new pet is healthy and happy.
The Puppy Contract
Need more information to help you make an informed decision when buying a puppy? The Puppy Contract can help.
Find the information you need as we support you through every step of your journey with your canine companion.
Dog insurance can help cover the cost of veterinary treatment if your puppy gets injured or falls ill.