Activities: the dog owner's guide
As more and more of us decide to enjoy a staycation with our dogs, you might be looking for some new fun activities to enjoy with the family, canines included!
But, would you know what to do if your dog got injured or became ill while trying these exciting exercises together?
We've teamed up with Dog First Aid Training to bring you some tips to help ensure your pooch stays safe and healthy whatever you might have planned for your adventure-packed holiday in the UK.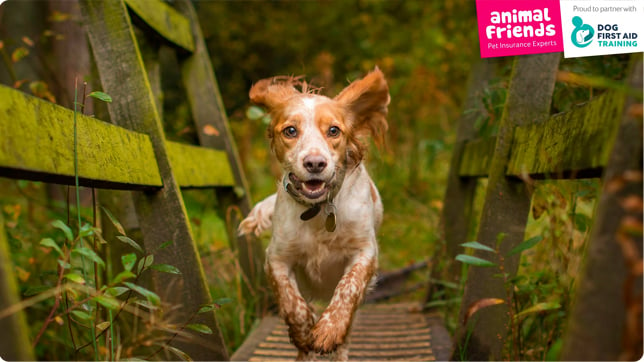 Keeping your dog safe while you do activities
With plenty of dog-friendly activities on offer around the country, there is something for everyone to enjoy no matter where you might be headed. Not all dogs will be able to take part in the activities on offer, but as you know your canine companion best, you'll know exactly what they might enjoy.
Paddleboarding
Paddleboarding with your dog isn't something you'll be able to jump straight into while on your staycation. To keep your pooch as safe as possible, this activity needs to be practiced at home first. Here are some tips on preparing your dog for a day on the board:
Bring the board into the house – Bring your paddleboard into the house and let your dog get used to the board and learn that it's nothing to be afraid of so that they don't end up panicking and hurting themselves on the day.
Make sure they understand basic cues – It's important to make sure your dog has mastered basic obedience cues like 'sit' or 'stay', this will help them stay safe while on the board.
Master the board – Before heading out on the board with your dog, you need to be comfortable on the paddleboard, too. Practice standing up, paddling, turning and being able to get back on the board after falling in the water.
Make sure they can swim – Never take your dog out onto the water before you know they are able to swim. This might take some practice, but don't rush as your dog is bound to get used to the water in their own time. Once they're comfortable around water, you will be able to take them paddleboarding with you.
Buy a life jacket for your dog – Even if your dog can swim, a life jacket will help your dog float if they are too tired to make their way back to you and allow other people to easily see your pooch, while the handle makes it easy for you to pull your dog back onto your board.
Other things to consider before paddleboarding with your dog:
Try to stay in shallow or standing-depth water – if you fall off and the board hits your dog, you might find yourself having to "lifesave" your stunned pooch back to shore. Boards create considerable drag when swimming and can be pulled strongly by currents or waves, so being able to touch the bottom would put you at a distinct advantage.
Don't let them drink the water – Always take fresh water with you so that your dog can stay hydrated without having to lean overboard to try and drink the water you are paddling through. This can help prevent them from falling ill, especially if you are in the sea.
Don't spend too long out on the board – The time you spend on the board will depend on the weather, your dog's confidence, the changing water conditions and your supply levels. If you are unsure about something, safely head back to the shore.
Stay away from hazards – Your dog could jump into the water at any point during your boarding session so it's important to either keep your distance from any hazards (docks, shallow water, boats, people etc.) or kneel or sit so you can reduce the risk of injury if they're unavoidable.
Pack a first aid kit – Make sure you can carry a first aid kit while on your paddleboard so that you can provide the proper care if your dog was to hurt itself.
If you're heading to the beach for your paddleboarding adventures, be sure to brush up on your dog first aid knowledge before you go.
Hiking
If your dog loves heading out on an adventure with you, you might be planning to hit the hills or discover some new plains during your staycation. Wherever you might want to explore, here are some top tips to help keep your furry friend safe out on the trail:
Are they ready to go hiking? – Consider your dog's age, health, breed and fitness before taking them out for a hike. They might enjoy the walks you share at home, but hiking can be strenuous for puppies, older pooches, brachycephalic breeds and overweight dogs.
Know your dog's limits – Keep an eye on your dog as you hike for any signs of discomfort so that you can take a break and help avoid your pooch from suffering from heat exhaustion or general aches and pains.
Keep them cool – Head out hiking during the cooler times of day, avoiding the midday sun and make sure to take breaks in shaded areas to allow your dog time to cool down.
Teach them basic cues – It's important to know that your dog will listen to you while hiking, otherwise they might injure themselves or cause an accident. If they're unable to follow basic cues or come when called, it might be best to keep them on the lead to ease them into the new way of walking.
Beware of any hazards – If you are walking along the coastline or hiking up hills, keep your dog close to you so that they don't put themselves (and you!) in danger or get hurt as they explore the new environment.
Pack a first aid kit – Make sure you or your dog can carry a first aid kit, so that you can provide the proper care if your dog was to hurt itself while hiking.
Take the right supplies – You will need to bring enough water for you and your dog, treats to reward good behaviour and poo bags to clean up after your pooch. This will help keep the environment clean and you, your dog and others around you happy and healthy.
Things to check for after your hike:
Ears – check your dog's ears for any grass seeds or other debris caught in their fur.
Eyes – looking at your dog's eyes will allow you to check for any scratches or grass seeds.
Pads – a dog's paw pads are susceptible to things that can go unnoticed like, wounds, cracks, inflammation, or ticks.
Body – checking over your dog's body will help you spot and remove any debris, ticks or seeds.
Mouth – have a look at your dog's muzzle, in their mouth and on their gums to check for any abrasions.
Biking
Riding a bike with your dog can be an incredibly fun and rewarding activity as long as you consider certain health and safety issues.
Properly condition your dog – If you're planning on having your dog run alongside your bike, consider their fitness level, breed, experience and temperament and age before heading out on your ride. Making sure you take all of these into consideration can help to avoid injuries and accidents. If you don't think your dog is capable of keeping up, you can always work up to the longer bike rides by taking them on shorter ones at home.
Consider your terrain – Choose your terrain and exercise location safely, especially when using a bike lead attachment and having your dog run alongside you. Possible distractions and unexpected events around you could cause your dog to react instinctively, which might result in an accident.
Always wear a helmet – Making sure you have taken the necessary precautions to stay safe and be able to tend to your dog if you were involved in an accident.
Consider other ways they can join in – If your dog isn't able to run alongside your bike why not use a trailer or basket so that they are not left out.
Take a first aid kit – Pack an appropriate first aid kit for any injuries that might arise from cycling with your dog such as logged grass seeds, cut paws or strains.
Take the right supplies – You will need to bring enough water for you and your dog and possible another lead attachment in case the first one breaks as you cycle.
What to pack in your first aid kit
Here is a list of things you'll need to pack in your first aid kit, depending on the injury you are most likely to encounter while partaking in activities with your dog.
Bandages for cuts
Dressings to apply pressure on wounds
Surgical tape to secure the bandage
Eyewash in case their eye needs to be flushed
Antibacterial wound cleaner to help disinfect any wounds
Tick remover to remove any unwanted pests on hikes
Thermal blanket to keep your dog warm
It's also useful to have the Joii Pet Care app downloaded to your mobile device in the event of an emergency while you are out and about and cannot quickly get to a veterinary practice.
This information was provided by Dog First Aid Training. Dog First Aid Training provide CPD accredited, vet-approved emergency canine care training to dog owners and people who work with dogs. To find a class near you please go to www.dog-first-aid.com or call 0800 999 6632.
Find the information you need as we support you through every step of your journey with your canine companion.
Dog insurance can help cover the cost of veterinary treatment if your dog gets injured or falls ill.
We know pets
Animal Friends Insurance is a multi-award winning FCA-regulated pet insurer, founded in 1998 to provide industry-leading pet insurance and first-class animal care to create a better life for every animal.
As one of the UK's largest pet insurance providers, Animal Friends works with vets, veterinary professionals, and partners pioneering the latest veterinary technology & healthcare advancements to achieve our vision.
Our policyholders have helped donate over £7.8 million to more than 700 animal charities worldwide and by educating and inspiring others to act on current events and responsible pet ownership, Animal Friends is driving positive change for animal welfare and conservation.