Camping: the dog owner's guide
Dogs are part of the family, so it makes sense that they should also get to come away with us as we enjoy some time out from our daily routines. Camping staycations are a great way for you and your canine companion to discover new sights, smells, sounds and scenery together.
But, would you know what to do if your dog got injured or became ill while you were exploring the great outdoors together?
We've teamed up with Dog First Aid Training to bring you some tips to help ensure your pooch stays safe and healthy on your camping adventure.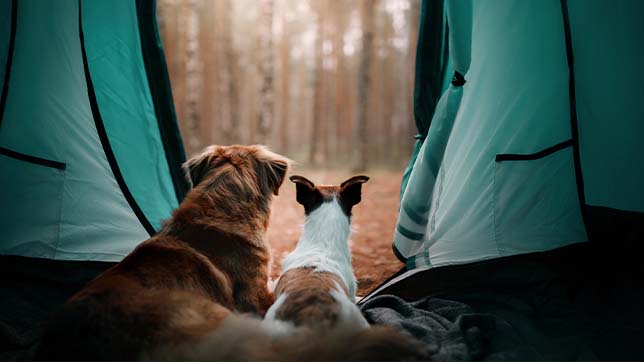 Things to consider before going camping with your dog
Before spending time under a canvas with your pooch, there are a few things to think about when taking your dog on a camping trip.
Book ahead – The first thing you'll need to do is find a dog-friendly camping site. Booking ahead will help avoid any disappointment, never assume that a campsite will have a place for you and your pooch to pitch.
Dog-friendly amenities – Before booking your camping spot, you'll want to make sure that nearby amenities also cater to dogs so that you have plenty to do in the surrounding areas.
Consider the campsite's rules – Individual campsites have different rules that pet owners will need to adhere to, like some may require your dog to stay on a lead while on site. To make your stay as enjoyable as possible for you and other campers, it's important to follow the rules and guidelines provided.
Will your dog be comfortable? – Camping is not for everyone, and the same can be said about dogs as they miss their usual environment. If you think your pooch would prefer to stay at home, don't force them to go camping with you or why not try setting up a tent in the back garden or living room to give them a chance to get used to it?
Microchip detail – Make sure your dog's microchip details are all up to date in case they get lost, stray or are separated from you. This way, you can be contacted immediately when they are found.
Flea, tick and worm treatment – By regularly using treatment against dog pests, you can help prevent and get rid of fleas, ticks and worms that can easily be picked up while on their camping adventures.
Keeping your dog safe when camping
When dogs are involved, you aren't able to just grab your camping gear and go without putting in some serious packing, planning and preparation. Here are our top tips on ways to keep your canine companion healthy during your camping trip.

Grass seeds
Grass seeds are a common problem, particularly during the summer months and can cause pain and infection in affected dogs. Grass seeds can resemble tiny arrowheads which brush off onto your dog's fur during their walks and get stuck under the skin.
Once you return from walks, always check your dog's toes, ears, armpits and eyes for grass seeds and remove any that you find. If you find one and it's stuck or notice a swelling be sure to book an appointment with your vet as these pesky seeds can pierce the skin and travel through your dog's body, causing problems such as infections and abscesses along the way.
Bites and stings
The warmer weather of spring and summer has its downsides with plenty of bugs, pests and snakes also coming out to enjoy the sun. Dogs use their noses to explore the world around them, but this can also lead them to trouble, especially if they are intrigued by a bee, wasp or adder.
Treading on unsuspecting insects and snakes are a common occurrence, too.
Here are signs that your dog has been bitten or stung:
Swelling
Limping
Lameness
Licking or biting the sting
Whining
Bleeding
Drooling
If you suspect your dog has been bitten by an adder, seek veterinary attention immediately.
If your pooch is showing signs of swelling around the mouth or throat area following a bite or sting from an insect, you should contact your vet.
Heatstroke
The weather can be somewhat unpredictable here in the UK, so it can sometimes be hard to plan ahead. This means you might end up sleeping in a tent on a warm evening or during our yearly surprise heatwave. If this is the case, it's important to remember that tents can quickly heat up to dangerous temperatures so dogs should never be left alone in them. Make sure you can provide shade or pitch your tent in a spot where it will be out of the sun so that it's cooler for you all.
Always provide fresh water so that your dog can stay hydrated if they become thirsty – this includes overnight, as tents can get very hot from the sun in the early hours before waking.
Barbeques
Campers often use barbeques to cook up a delicious dinner at the end of the day, but these hot grills present safety hazards for dogs. It's important to keep dogs a safe distance away from the barbeque as they might try to steal hot food or get burnt on the hot coals and ashes.
Once you are done, get the barbeque cooled down quickly and disposed of safely along with any tin foil, cling film, packaging, skewers and food leftovers.
If you are cooking food that may be harmful to your dog, make sure everyone knows not to sneak any treats to your dog, and make sure any leftovers are disposed of where they cannot be accessed.
Poisonous plants
While out and about or relaxing by your pitch, your dog might come across some plants that could be toxic to them. Knowing which flora to avoid and the signs of poisoning in dogs can help you keep your dog safe.
Wild plants toxic to dogs:
Bracken
Ivy
Buttercup
Daffodil (bulbs)
Foxglove
Holly
Privet
Signs of poisoning in dogs:
Convulsions
Diarrhoea
Drooling
Drowsiness
Dry heaving
Itchiness
Loss of appetite
Nausea
Tremors
Vomiting
Contact your vet as soon as possible if you believe your dog has eaten something toxic or come into contact with something poisonous.
What to pack for going camping with a dog:
Their usual food stored in an air-tight container
Food and water bowls
Plenty of poo bags
Collar, harness, and lead
A spare lead
Contact information for the local vet and download the Joii app
A towel (you won't want to share!)
Any medication they are on
Something that reminds them of home (their bed or toy)
A dog first aid kit

Cotton wool pads to clean small wounds
Bandages to control bleeds and keep wounds clean
Tick tweezers to remove unwanted pests
Self-adhesive tape to help secure bandages
This information was provided by Dog First Aid Training. Dog First Aid Training provide CPD accredited, vet-approved emergency canine care training to dog owners and people who work with dogs. To find a class near you please go to www.dog-first-aid.com or call 0800 999 6632.
Find the information you need as we support you through every step of your journey with your canine companion.
Dog insurance can help cover the cost of veterinary treatment if your dog gets injured or falls ill.
We know pets
Animal Friends Insurance is a multi-award winning FCA-regulated pet insurer, founded in 1998 to provide industry-leading pet insurance and first-class animal care to create a better life for every animal.
As one of the UK's largest pet insurance providers, Animal Friends works with vets, veterinary professionals, and partners pioneering the latest veterinary technology & healthcare advancements to achieve our vision.
Our policyholders have helped donate over £7.8 million to more than 700 animal charities worldwide and by educating and inspiring others to act on current events and responsible pet ownership, Animal Friends is driving positive change for animal welfare and conservation.