Roadtrips: the dog owner's guide
If you're planning a staycation this year, you are probably planning on driving to your destination. If your pooch is joining you on your travels, there are some things you need to do to ensure their long car journey is as pleasant as possible.
We've teamed up with Dog First Aid Training to bring you some tips to help ensure your dog stays safe during your road trip.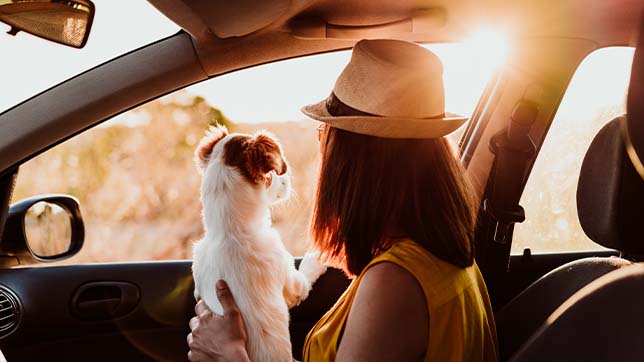 Before you go
Before heading out on the road, there are a few things you'll need to do to make sure you are prepared for the journey ahead and to help make it as pain-free as possible for you and your pooch.
Don't feed before you go – Try not to let your dog eat anything right before you set off as this could cause them to be sick. Give your dog plenty of time to digest their food or feed them once you arrive at your destination.
Let the air flow through the car – Before you set off, try opening the doors and letting cool air flow through the car by adjusting the fans to face the back seat. This can help ensure that the back seat or boot isn't uncomfortably warm when your dog gets in.
Plan any stops ahead of leaving – Planning ahead will allow you to find the best dog-friendly services or stops along the way.
Make sure you have the right restraint – Use a good quality harness, or a crate or guard, to keep your dog safe while travelling. You will need to buy one of these before you travel with your dog as per rule 57 of the Highway Code.
Pack everything you might need – Don't just pack with your destination in mind, make sure you're prepared for the journey ahead by packing:

Fresh water
Dog lead
Poo bags
Food and water bowls
Toys or home comforts
Telephone number of a vet
First aid kit including:

Bandages
Cotton wool
Wound dressing
Wound wash
Self-adhesive tape
Tweezers
Dressings
Vinyl gloves
Antiseptic wipes
On the way
Make regular stops – This will allow your dog time to stretch their legs and go to the toilet. Keep them on their lead to keep them safe from passing traffic or running off in unfamiliar surroundings.
Never leave them in a car – It doesn't take long for a vehicle to warm up causing your dog to overheat, which can be fatal.
Keep them away from open windows – Letting your dog put its head outside the window while you're driving could result in an accident and cause infection in their eyes from the grit, dust and bugs that could be blown into their face.
Keep the car cool – Have your air conditioning on and make sure that cool air reaches your dog, wherever they might be seated. If this isn't possible, open the windows to let the fresh air flow through the vehicle.
After you arrive
There is still lots to do once you've reached your destination, but don't worry we've got you covered.
Let your dog out as soon as possible – Once you've arrived, it's important to get your dog out of the car as soon as you're able to, especially if you weren't able to take any breaks.
Take it easy – Don't rush your dog as they get used to their new surroundings, so that they don't become stressed or agitated.
Consider whether to put them on the lead – unfamiliar surroundings may contain dangers that your dog is unaware of, so it may be advisable to put them on the lead until you know they can be safely let off.
Take care when it's warm – If it's a hot day, make sure you don't let your dog walk on hot pavements or else they could burn the pads of their paws and will need veterinary care.
Look for the nearest vet – Just in case something was to happen, find the telephone number for the local vet and save it as a contact in your phone or write it down and keep it in your purse or wallet. As an Animal Friends customer, you also have free access to vet experts at Joii 24 hours a day.
This information was provided by Dog First Aid Training. Dog First Aid Training provide CPD accredited, vet-approved emergency canine care training to dog owners and people who work with dogs. To find a class near you please go to www.dog-first-aid.com or call 0800 999 6632.
Find the information you need as we support you through every step of your journey with your canine companion.
Dog insurance can help cover the cost of veterinary treatment if your dog gets injured or falls ill.
We know pets
Animal Friends Insurance is a multi-award winning FCA-regulated pet insurer, founded in 1998 to provide industry-leading pet insurance and first-class animal care to create a better life for every animal.
As one of the UK's largest pet insurance providers, Animal Friends works with vets, veterinary professionals, and partners pioneering the latest veterinary technology & healthcare advancements to achieve our vision.
Our policyholders have helped donate over £7.8 million to more than 700 animal charities worldwide and by educating and inspiring others to act on current events and responsible pet ownership, Animal Friends is driving positive change for animal welfare and conservation.