Taking your dog on holiday
As we move away from the winter period, many of us start to look towards our spring and summer holidays as a chance to take a break from the regular run of life and relax.
Holidays are often spent abroad, with many families taking advantage of the warmer weather that Mediterranean countries enjoy. But how can you fit such a holiday into your schedule when you have a pet to worry about?
One of your options is of course to take your pet with you on holiday. This is obviously more manageable if you are staying in your own country, and can easily find accommodation which will accept pets. Campsites are often allowing of pets and you need only ask if a pet will be accepted in a hotel or travel lodge; often it shouldn't cost you any extra as long as there is no mess made. When travelling abroad it is better to plan ahead and make sure that any places to stay are also as accepting of pets, and if your destination is too far to drive, ensure that your flight agency accepts pets as passengers as well.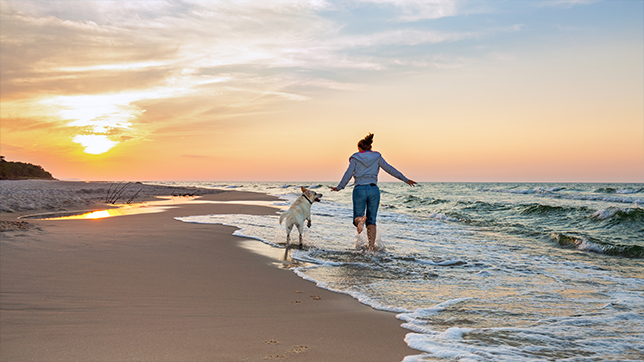 If taking your pet with you is not an option, you have a number of alternatives that can be considered. The most popular option is using a kennel or cattery service, as this ensures a professional level of service and a peace of mind through knowing where your pet is and that it is being cared for. Boarding kennels and catteries allow items from home to allow the pets to be more comfortable, and the services offered range from training to play-time, a schedule designed to engage your pet as much as possible and ensure that it is as enriched as possible whilst enjoying its stay.
Kennels and catteries come with their own stigma, and are not advised if your pet is uncomfortable around total strangers or large numbers of other animals; the smells of other animals may alarm your pet and cause anxiety issues that will only be exacerbated by the attentions of unfamiliar people. Another stigma for dogs is 'kennel cough', a disease similar to bronchitis that is spread easily in kennel conditions – this can be vaccinated against and is easily cured, but an on-going case may lead to pneumonia.
Another option is to leave your pets with a friend or family member; this is an option that may be more appealing to those families with pets that require a more tender approach to care, or perhaps medicinal needs that you feel should be undertaken by someone the pet is comfortable with. You should leave your pet with a friend or family member that your pet is familiar with to prevent any issues arising, as your absence may upset the pet and cause anxious or even frantic behaviour.
This option should only be undertaken if your friend or family is able to fit looking after a pet into their schedule, and doesn't mind have their home invaded by your pet. Often the way that you care for your pet may conflict with how others think you should be caring for your pets, and it may come as a shock to any potential carer when your pet expects to be allowed a seat on the sofa! If they are happy to have their home invaded, this may be the best option for you.
If, on the other hand, the conveniently closest friend or family member has no room in their house, you can consider asking them to call in to your home on occasion for the important feeds and walks/interactions that your pets may need. This option is fantastic for shorter holidays and allows your pet to stay in a comforting environment. As long as their carer can visit on occasion to ensure they have enough food/water and are kept clean, your pet should remain comfortable for the majority of your trip.
Obviously, any and all options are subject to your own personal preference, the personality and temperament of your dog and the availability of services (or friends/family) in the local area. Make sure you make the best choice for your pet before leaving for your holiday, as you may find that last minute plans can leave your pets feeling abandoned and rushed from the house – if the change is gradual or eased in, you can make your relaxing holiday period just as relaxed for your pet.
Find the information you need as we support you through every step of your journey with your canine companion.
Dog insurance can help cover the cost of veterinary treatment if your dog gets injured or falls ill.
We know pets
Animal Friends Insurance is a multi-award winning FCA-regulated pet insurer, founded in 1998 to provide industry-leading pet insurance and first-class animal care to create a better life for every animal.
As one of the UK's largest pet insurance providers, Animal Friends works with vets, veterinary professionals, and partners pioneering the latest veterinary technology & healthcare advancements to achieve our vision.
Our policyholders have helped donate over £7.8 million to more than 700 animal charities worldwide and by educating and inspiring others to act on current events and responsible pet ownership, Animal Friends is driving positive change for animal welfare and conservation.