Taking your dog to the beach
When thinking about fun things to do with your dog during the summer why not consider taking them to the beach? Being creatures that are led by their keen sense of smell and hearing, the beach can provide dogs with an amazing day out full of interesting sights and sounds that they'll absolutely love. Thousands of owners and their dogs flock to the beach every year and with this in mind we thought we'd take a look at some things to consider if you're going to be taking your dog to the beach.
Dog-friendly beaches
During the peak season of summer not all beaches will allow dogs to visit, some will allow them on the beach if they are on a lead at all times, whilst some will not allow them to visit at all. Such restrictions can be relaxed in the off-season when there are far less people trying to use the beach. However, don't be put off as there are hundreds of dog-friendly beaches around the UK that welcome dogs with open arms, peak season or not. Before setting out for the day, do some research on dog-friendly beaches; this really will help to make your day much more enjoyable, the last thing you want is to travel to a beach only to find out your dog isn't allowed on there.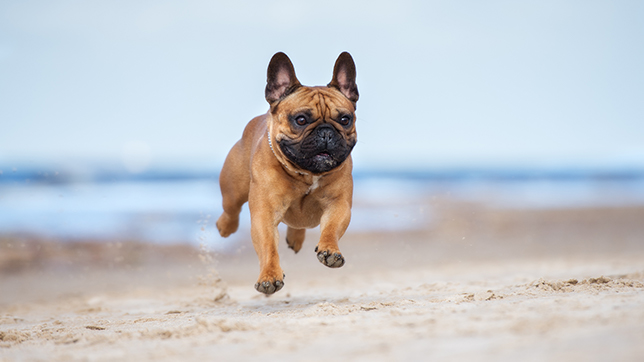 Stay vigilant and aware
When on the beach you'll need to be extra aware of your surroundings and keep a keen eye on your dog at all times. Don't let them pick up any discarded food or anything else from the sand – such as sea creatures – and make sure that they are protected by some kind of flea treatment as sand fleas are extremely common on most beaches, easily attaching themselves to your dog. Be careful of where you and your dog walk as there can sometimes be sharp objects just under the surface of the sand such as glass or shells; if the beach seems to be heavily littered with such objects then it may be best to move on to another part of the beach. Remember to check your dog's paws regularly for any cuts or nicks.
Keep your dog cool
If you are visiting the beach during the summer then you'll need to provide a shaded area where your dog can rest and keep cool so that they do not overheat, make sure you bring a parasol with you so that you can set up a space for this purpose. It is also essential that you keep your dog hydrated and offer fresh water regularly meaning that it's best to bring a suitable water bowl and supply of fresh water with you.
Swimming
If you are planning to let your dog go paddling in the sea then remember that tidal waters are entirely different to swimming spots such as ponds and still lakes, even if it is the shallow part of the sea. Before setting off, check the tides and current of the beach you are planning on visiting and avoid any areas with strong rip tides or currents. Once you're at the beach assess the state of the sea yourself, if it doesn't look safe enough for you to swim in then don't let your dog go in. If your dog does like to swim then keep an eye on them in the water at all times, making sure they do not go out too far and they do not drink saltwater.
Exercise responsible dog ownership
Be a responsible dog owner and think about others when you're at the beach. Obey all local signs and bylaws that tell you where you'll need to keep your dog on the lead and where you can and cannot take your dog. Also, make sure you pick up after your dog if they go to the loo; a lot of dog-friendly beaches will have dog waste disposal bins but if not then you'll have to find somewhere appropriate to dispose of your dog's waste, but please don't leave it on the beach.
Playtime
Going to the beach with your dog can be a perfect opportunity for playtime, take some brightly-coloured toys with you so that they won't blend in with the sand or sea; if your dog is a fan of water then it can be fun to take some floating toys for a game of catch in the water. When you get home remember to thoroughly rinse the toys as seawater can contain toxins that can be ingested if left to soak into the toy.
Going home
When you are ready to go home make sure that you wash your dog with fresh water as saltwater can irritate their skin, especially if it is left to dry on the coat. If you'd like to be extra careful then give your dog a proper bath with hot water and dog shampoo once you arrive home.
Remember, how dog owners act today will heavily affect beaches' policies on dogs in the future, so behaving safely and responsibly will stand dog owners and beaches in good stead.
Find the information you need as we support you through every step of your journey with your canine companion.
Dog insurance can help cover the cost of veterinary treatment if your dog gets injured or falls ill.
We know pets
Animal Friends Insurance is a multi-award winning FCA-regulated pet insurer, founded in 1998 to provide industry-leading pet insurance and first-class animal care to create a better life for every animal.
As one of the UK's largest pet insurance providers, Animal Friends works with vets, veterinary professionals, and partners pioneering the latest veterinary technology & healthcare advancements to achieve our vision.
Our policyholders have helped donate over £7.8 million to more than 700 animal charities worldwide and by educating and inspiring others to act on current events and responsible pet ownership, Animal Friends is driving positive change for animal welfare and conservation.