Travelling: things to consider
As a pet owner it can be difficult to contemplate spending time away from your furry family, even for exciting travelling plans or holidays.
For many, it means finding appropriate pet boarding facilities, or asking a friend or family member to house-sit. For others the only option is to take their pet along on the adventure.
Travelling by any means can be very stressful for pets, and should be avoided if possible. They may feel disorientated and anxious, and won't understand why they are in a different environment than usual. However, sometimes travelling with pets is necessary, and there are many things you need to bear in mind to make your journey as easy as possible for them.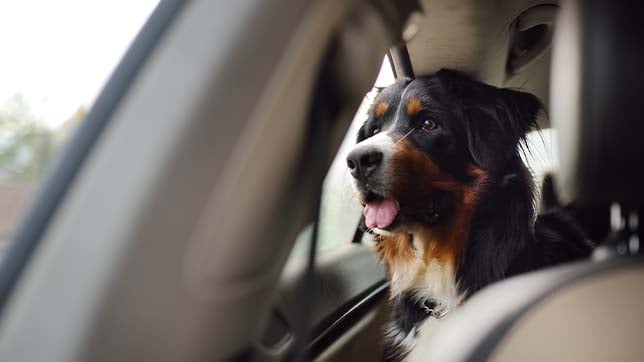 Before you leave
You need to ensure that all of your travelling essentials are in order before leaving. A collar with your name, address and contact details is a legal requirement for a dog in public. If you are taking your pet on holiday with you, attach the address of where you are staying to their collar in case they get lost. It is also advisable to ensure that your pet is microchipped and that the details on the register are up to date.
Check whether your destination will have everything your pet needs, and think about what you need to bring with you. A lead is essential as well as food and food dishes, bottled water and anything else such as a pooper scooper with waste bags.
Bring toys to make your pet feel more comfortable and consider taking their bed with you, as the familiar smell will make them feel more secure in a strange environment.
It is vital to check beforehand that your pet is healthy enough to travel, whether any medication needs to be taken on the trip and if they have had all of their vaccinations.
Also think about whether booking you and your pet into a pet-friendly hotel may be worthwhile for longer journeys. If so, ensure you have booked in advance otherwise you may struggle to find somewhere to stay that will allow pets.
Travelling by car
Travelling by car can be stressful for both you and your pet if you don't take the necessary precautions. Some animals may not enjoy longer journeys, whilst others will not enjoy travelling in the car at all.
Make sure your dog will be secure throughout the journey, as this is a legal requirement.
You need to have a comfortable crate or carrier that will stop them from jumping up or escaping. This must be well-ventilated and large enough for your pet to be able to stand up and turn around in. Securing the crate effectively is extremely important, as you don't want it to slide around or prove unstable during travel or, in a worst-case scenario, an accident.
If you don't have a crate, invest in a pet-friendly seat belt or harness to restrain them properly, and ensure someone sits next to the pet to reassure them and keep them under control. Remember that in the event of an accident, not only could your pet get seriously hurt but travelling with them unrestrained could also endanger your life or your passengers'.
A test run to see whether your pet can cope may be beneficial if you are planning a long car journey. Try taking your pet on smaller journeys first, gradually increasing the travelling time until they become more confident. Dogs may be tempted to stick their head outside of the car window but it is safer for them to remain inside, as they could hit a passing object or get stuck.
Show your pet that travelling in the car is nothing to be afraid of by bringing toys and food to distract them, plus plenty of bottled water. Remember to include lots of rest stops for feeding, going to the toilet and stretching their legs. Whatever you do, don't leave your pet unattended in the car for too long, as a hot car can be deadly for animals.
Don't feed your pet immediately before travelling in case they suffer from travel sickness.
Travelling by train
Before travelling by train, check what the rules of the rail company you will be using are. Some incur extra fees for travelling with animals, and other companies may only allow pets to travel under certain conditions such as in first class.
Dogs may need to be kept on a lead or in a crate at all times, and the crate may not be able to exceed certain dimensions. Contact the rail company before you buy any tickets so you know exactly what your limitations will be.
Ensure your pet has been to the toilet before boarding the train, as you don't want any accidents that may result in your their removal. Keep your pet firmly under your control at all times because you may be asked to remove them if any other passengers are inconvenienced, or you could be instructed to move to another carriage. In such cases, your pet may be put in a container in a luggage van.
Carefully consider whether it is in the best interests of your pet to take them travelling with you. Many animals can suffer during long periods of confinement in a new environment. Ask yourself whether you are able to leave your pet at home with a relative or a friend instead.
Although you may miss them, taking your pet on a short trip away may not be worth putting them through the amount of stress they could experience.
YuMOVE Calming Care could help your pet feel more relaxed, soothe stress and encourage calm behaviour.


Find the information you need as we support you through every step of your journey with your canine companion.
Dog insurance can help cover the cost of veterinary treatment if your dog gets injured or falls ill.
We know pets
Animal Friends Insurance is a multi-award winning FCA-regulated pet insurer, founded in 1998 to provide industry-leading pet insurance and first-class animal care to create a better life for every animal.
As one of the UK's largest pet insurance providers, Animal Friends works with vets, veterinary professionals, and partners pioneering the latest veterinary technology & healthcare advancements to achieve our vision.
Our policyholders have helped donate over £7.8 million to more than 700 animal charities worldwide and by educating and inspiring others to act on current events and responsible pet ownership, Animal Friends is driving positive change for animal welfare and conservation.