Travelling with your pets
If your pets are accompanying you on holiday, one of the most important things you will have to consider is how your pet will make the journey. Depending on how you are travelling and how long for will make a serious impact on the health of your pet if they do not make the journey in a comfortable manner. This article aims to give you the best insight on how to care for your pet whilst taking your holiday.
Travelling via car is the easiest option for your pet, as all arrangements can be made by you well in advance to make sure that your pet will be confident during the journey. A safe car carrier is a must, to ensure that no harm can come to your pet whilst on your travels; bumps in the road, knocks and scrapes with other vehicles and sudden stops are all usual occurrences on roads that can cause undue distress to your pet.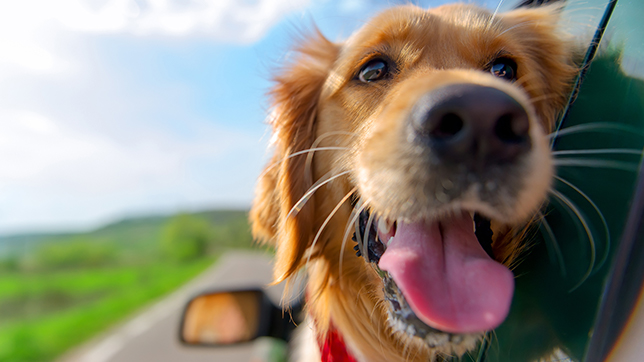 By using a road approved, padded and comfortable travel 'cage', your pet is kept secure and safe from harm during all but the worst of incidents. You can also buy pet harnesses that function as seatbelts for your pet, meaning that they have the best of protection during your travels.
Obviously your pet may not like the idea of travelling in such a set-up and you may need to build up to the journey by experimenting with the travel 'cage', letting your pet experience it first without driving anywhere; simply sniffing the cage and letting them relax inside it will let them feel more comfortable. Then, start by taking them on short journeys, giving them treats for good behaviour, before building up to longer and longer journeys.
You should also incorporate the travel 'cage' into everyday life where you can, using it to take your dog for walks or to engage in play with your cat. By helping your pet understand that it is part of their normal life, they will be less distressed during a long journey. They may even enjoy themselves!
If you are not travelling via car, or your destination is a little too far to stay on the ground, you will need to make sure that your alternative means of transport is allowing of your pet. Whether flying or travelling via ferry you will need to ensure that the correct container is used for your pet; these will differ between the various companies that you can travel with, so it is in your best interest to check and double-check with them before leaving.
As with any trip abroad, your pet will need to have all the necessary vaccinations and the correct paperwork according to PETS (Pet Travel Scheme).
When travelling with your pets, make sure that you can make regular stops for your pet to 'do their business' and prevent any mess; if you cannot, for example because of a long flight, ensure that your pet has had several chances to 'go' before the flight to prevent any mid-air accidents – other passengers don't want a smelly flight, and neither would you if the situations were reversed! Of course, it isn't your fault if an accident does occur, and you can always ask staff for help when something goes wrong.
The most important thing to factor in while travelling is that you and your pet are comfortable; if you are stressed or worried then your pet will catch on to this feeling and may become nervous because of it, so remember to stay calm and enjoy yourself, and give your pet as much attention as possible. A holiday is something to be enjoyed, so don't let unnecessary stress ruin it for you.
To find out more about how to travel with your pet, visit our blog, article and guide pages. Insuring your pet gives you peace of mind that you and your pet will be covered if anything were to happen. Animal Friends offer a range of policies for dogs, cats and horses, and we also insure older pets.
Find the information you need as we support you through every step of your journey with your canine companion.
Dog insurance can help cover the cost of veterinary treatment if your dog gets injured or falls ill.
We know pets
Animal Friends Insurance is a multi-award winning FCA-regulated pet insurer, founded in 1998 to provide industry-leading pet insurance and first-class animal care to create a better life for every animal.
As one of the UK's largest pet insurance providers, Animal Friends works with vets, veterinary professionals, and partners pioneering the latest veterinary technology & healthcare advancements to achieve our vision.
Our policyholders have helped donate over £7.8 million to more than 700 animal charities worldwide and by educating and inspiring others to act on current events and responsible pet ownership, Animal Friends is driving positive change for animal welfare and conservation.