9th January 2012
When it comes to losing your pet, the last thing you want to do is think about getting rid of them so soon after losing them. This is an understandable feeling, but it is necessary to plan how you will go about handling your pet's remains. If you haven't yet considered it, perhaps a pet cremation is just the kind of thing you might wish to consider.
Many vets will offer to take care of your beloved pet once they have moved on, and sometimes it may seem like it will be easier to let them deal with it rather than take a look into the options for yourself. Although it may seem like a painless option, it may do you good to have an active part in choosing how and where your pet is taken once they have passed away.
Many people hear the words 'pet cremation' and expect a similar service to a human counterparts; this may not always be the case, so your best bet is to visit a variety of pet crematoria and choose the one that makes you feel secure and that your pet will be looked after, as this is an important part of the grieving process. The entire service should be taken tenderly and without fear of upset or incident, so to fully ensure the easiest of ceremonies for yourself, take the time to find an establishment that operates favourably.
Having lost pets in the past myself, I know that I would find it a lot harder to deal with their passing had I not had them properly cremated, being respected and cared for in their final moments before being lovingly presented in a beautiful, personalised urn. Although we scattered our dogs' ashes in their favourite locations, back with nature where they most enjoyed life, we've kept those personalised tokens all this time as a loving memento not only of our lives with them, but the beautiful service with which we said goodbye.
If you found this article useful, why not visit our dog blog for more news, insight and opinion pieces?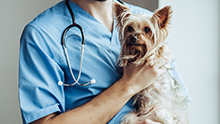 Dog insurance can help cover the cost of veterinary treatment if your dog gets injured or falls ill.