17th February 2022
The winter months are not only known for their blustering weather and frosty mornings, they are also renowned for their long nights, particular at the time of the winter solstice when the shortest day only offers just under eight hours of daylight. With the long dark nights it means that for us dog owners unless you're able to walk your pooch during the day, you're probably out in the dark trying to make sure they're still getting the exercise they need.
Kitting your dog in reflective gear (and making sure you wear some yourself) can help keep them safe if you venture out in the darkness. With so many different products available for our canine companions, it's hard to know what's best for your dog.
To help save you some money and to spare you from having to try them all yourself, we've put some products to the test to see if they'll help your dog be seen when it matters most.
The canine critic
Lulu is a 9-year-old Staffie x Collie cross. She is as full of life as she was as a puppy, even having had a litter of eight of her own. She can be found zooming around her farm chasing the pheasants or snoozing on the recliner armchair which she has claimed for her own!
On a typical day, Lulu is walked at least three times a day for no less than 20 minutes at a time.
The harnesses
A good harness will reduce pulling, increase your control over your pup, and decrease stress on their neck and joints as it covers their chest, shoulders, and upper back which helps disperse pressure over a larger surface area.
Embark Pet Illuminate Reflective Dog Harness
Said to be a lightweight, high-visibility harness, the Illuminate Reflective Harness is designed to slip over your dog's head and buckle around their belly. With a matching lead and collar available, Embark Pet wants to make sure that their products pop in the dark.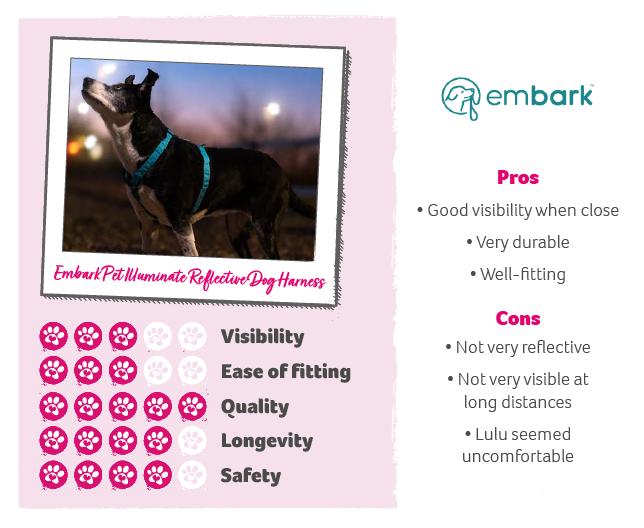 Pros
Good visibility at close range
Very durable and high-quality material
Well-fitting, safe and secure on large dog
The material used can be wiped clean
Tough metal ring on top to securely attach a lead
Cons
The material is not very reflective
Not very visible at long distances (over 10 metres) in the dark
Fits well on a large dog but is very tough to adjust the stiff straps in cold weather
Lulu seemed uncomfortable almost like the straps need 'breaking in' with more use as they're very tough
A little fiddly to put on without instructions
Price: £19.99
3 Peaks Ascent Dog Harness
3 Peaks is specially designed to perform in tough outdoor conditions and provides a balance of functionality, technical specification and durability. Their Ascent Dog Harness has a reflective trim to help increase visibility, let's see what Lulu thought!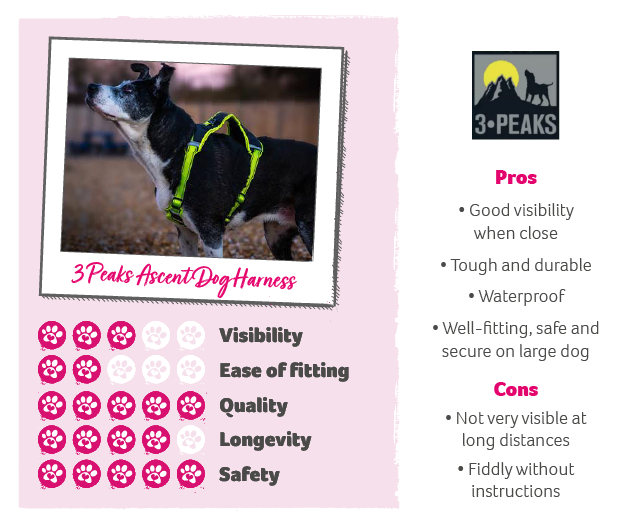 Pros
Good visibility at close range
Material is very tough and durable
Waterproof
Well-fitting, safe and secure on large dog
Wouldn't break or damage easily as it's designed for long adventures
Tough metal ring to securely attach a lead
Cons
Not very visible at long distances (over 10 metres)
Fiddly to put on without instructions
Price: Starting from £28.00
Julius K9 Harness
Designed with working dogs in mind, Julius K9 Harnesses are a popular choice for household pets. Advertised to keep your dog safe, secure, and comfortable while being quick and easy to use, Lulu put their Powerharness to the test for those night-time strolls.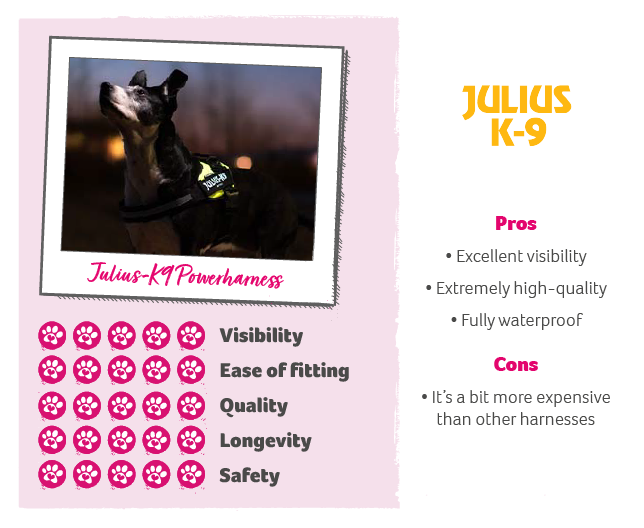 Pros
Excellent visibility at both close and long distances
Extremely high-quality material
Fully waterproof and suitable for all-weather
Fully and easily adjustable
Perfect fit, snug and comfortable
Safe and sturdy metal ring to attach a lead
Cons
It's a bit more expensive than other harnesses
Price: Starting from £18.49
The collars
There are lots of different types of dog collars available with plenty of materials to choose from depending on your dog's needs and how you'll be using them. It's important to consider that while collars must be worn to hold a dog's identification, they might not be ideal to be used as illumination in the dark as they can sometimes get lost under long fur. But let's put this to the test…
LED Dog Collar
A simple collar with adjustable light settings, Lulu tests the LED Dog Collar to see if it's really as bright as it looks in the dark.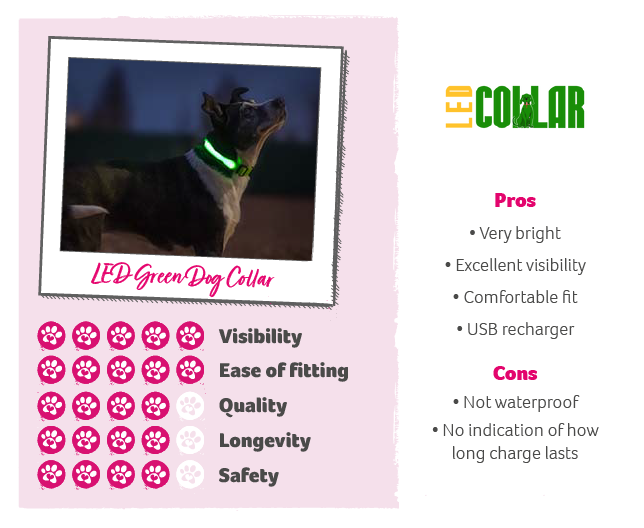 Pros
Very bright green with adjustable light settings
Excellent visibility both at short and long-range
Very easy to turn light on and off
Comfortable fit yet sturdy and safe
Can be wiped clean
USB recharger with no need for batteries
Safe solid metal ring to attach a lead
Affordable price
Cons
Not waterproof
No indication of how long charge lasts
Price: Starting from £8.49
Zöon Flash Collar
Listed as a perfect collar for walkies on those winter nights, we wanted to try the rechargeable collar for ourselves.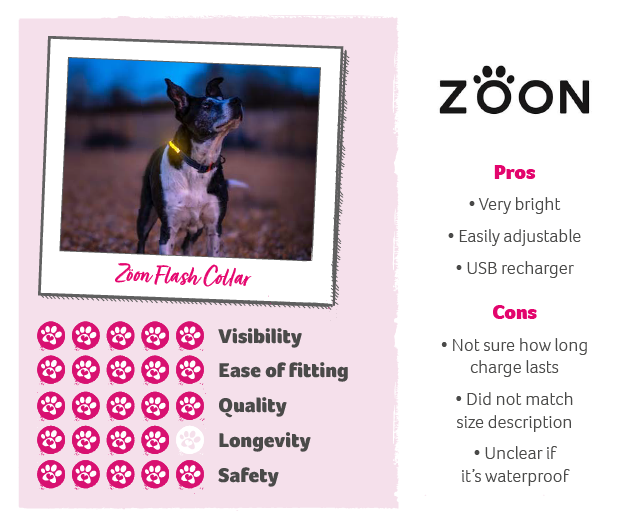 Pros
Very bright with adjustable light settings
Easily adjustable
Came with USB recharger cable
Very good quality material that will not easily break or get damaged
Safe solid metal ring to attach lead
Cons
A little difficult to figure out how to turn on the light
No indication in description of how long a charge lasts
Unclear whether it is washable or waterproof
Price: Starting from £10
ILLUMISEEN Collar
With over 18,000 reviews, Lulu wore the ILLUMISEEN Collar to see if it really would help her be seen during those darker walks.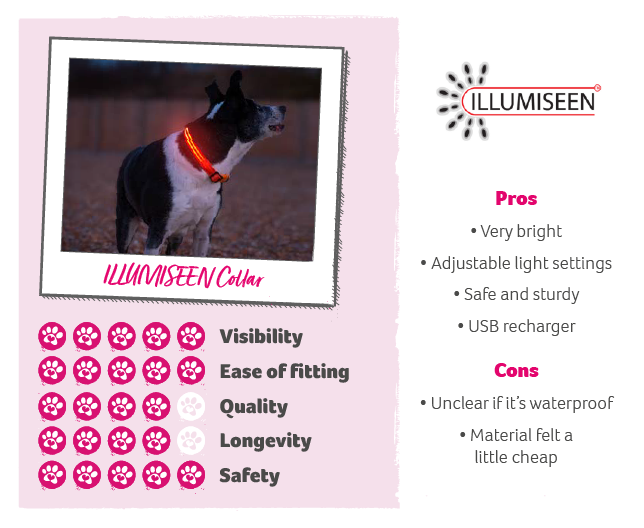 Pros
Very bright with adjustable light settings (static or flashing)
Easy to figure out the light modes with a click of a button
Safe and sturdy
Lots of sizes available and easily adjustable, fits well on a large dog
Comes with a single USB recharger cable (Five hours of light for one hour charge)
Safe solid metal ring to attach a lead
Cons
Unclear whether it is washable or waterproof
No specific information on whether the battery is removable
The material felt a little lower in quality than the Zöon collar
Price: Starting from £13.98
The coats
Not all dogs wear coats but some will prefer to have the extra layer depending on their breed, health or age as it can help them adapt to the changing climate around them.
Ancol Hi-Vis Stormguard Dog Coat
Inspired by professional outdoor pursuits, the Ancol Hi-Vis Stormguard coat offers thermal and waterproof qualities using high visibility material and finished with a reflective trim for nighttime safety.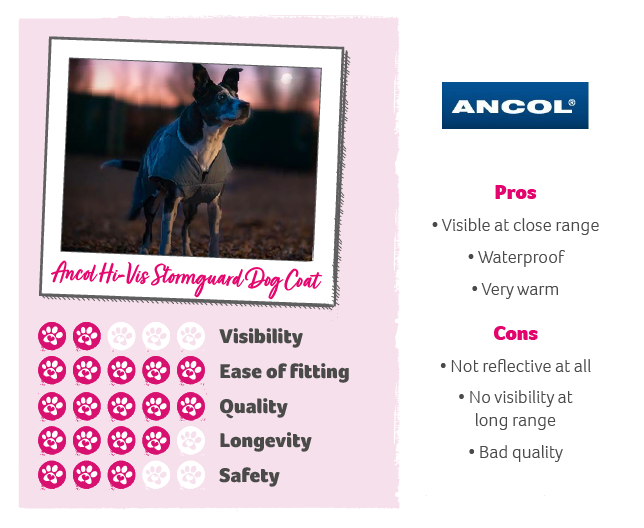 Pros
Somewhat visible at close-range
Waterproof and very warm
Snug and comfortable fit
Easy to wipe off mud and splashes
Cons
Not reflective at all (tested with flashlight shining on it and phone light)
No visibility at long-range on a black dog
The L size was a little too long on a large dog
Fabric did not look or feel like it would be chew-proof
No apparent attachment available for a lead
Price: Starting from £21.99
Danish Design 2-in-1 Hi-Viz Coat
The Danish Design coat has a removable polar fleece liner that converts it to a light raincoat and with the easy-fit Velcro strips the fleece can be re-attached ready for those colder days.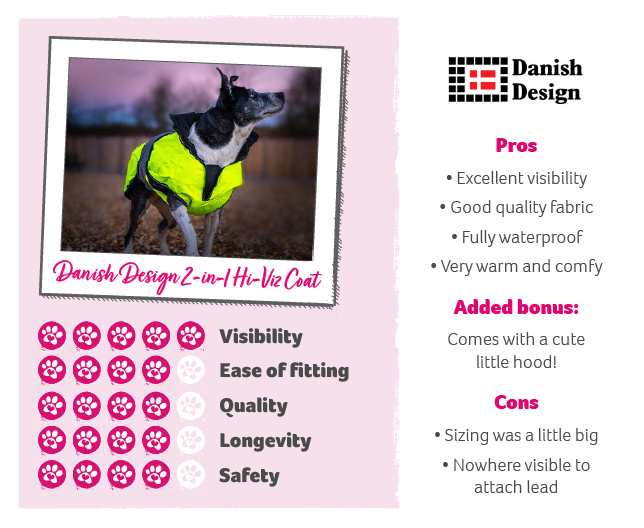 Pros
Excellent visibility both at close and long range
Good quality fabric, looked and felt durable
Fully waterproof
Snug and comfortable fit
Very warm and comfy
Easy to wipe off mud and splashes
2-in-1 coat – the inner liner can also be removed so suitable for warmer nights
Added bonus: comes with a cute little hood!
Cons
The L size was a little too long on a large dog
No apparent attachment available for a lead
Price: Starting from £11.99
REFLECT360 Waterproof Fleece-Lined Dog Coat
Utilising millions of tiny, highly reflective glass beads, the material is said to shine brightly when caught in torch beam or vehicle headlights. Lulu wanted to see for herself and headed out with her owner to put it to the test.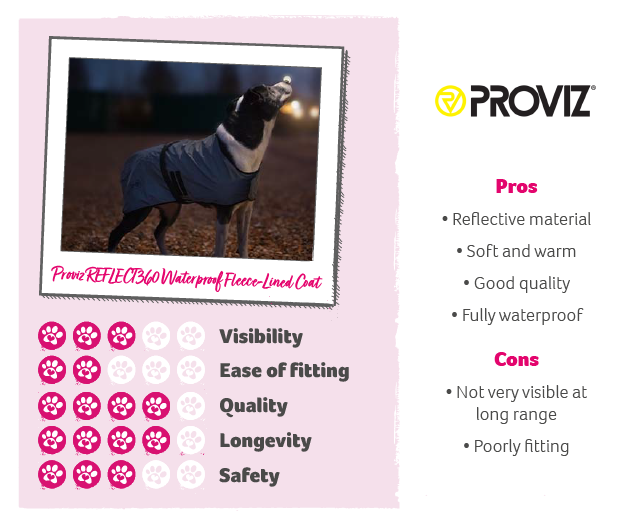 Pros
The material is reflective when light is shining on it
Material is thin but soft and warm
Good quality and durable fabric which appears tear and chew proof
Fully waterproof
The coat can be worn on top of a harness which was a plus
Cons
Not very visible at long-range
Velcro fastening but not very easily adjustable
The thin rear strap designed to help the coat stay in place was too thin and long
The L size was too long and wide for a large dog
Price: Starting from £29.99
We hope our tests help make your decision a little easier when it comes to choosing the best reflective gear for your pooch. Whatever you decide to do, it's important to make sure you and your dog are visible if you head outside in the dark. Stay seen, stay safe!
Please note: All products were purchased by Animal Friends Insurance and are not part of any existing partnership with the suppliers listed. Prices were correct at time of purchase. All products were tested on the same day and with the full support of Lulu.
Read more news articles, opinion pieces, reviews and personal stories behind our dogs on our blog.
Dog insurance can help cover the cost of veterinary treatment if your dog gets injured or falls ill.
We know pets
Animal Friends Insurance is a multi-award winning FCA-regulated pet insurer, founded in 1998 to provide industry-leading pet insurance and first-class animal care to create a better life for every animal.
As one of the UK's largest pet insurance providers, Animal Friends works with vets, veterinary professionals, and partners pioneering the latest veterinary technology & healthcare advancements to achieve our vision.
Our policyholders have helped donate over £7.8 million to more than 700 animal charities worldwide and by educating and inspiring others to act on current events and responsible pet ownership, Animal Friends is driving positive change for animal welfare and conservation.