3rd April 2023
An important part of keeping safe while out and about, leads are a must for dogs and making sure you pick the right one for your pooch. Thanks to our partners, Pets & Friends, we were sent some leads to be put to the test by Animal Friends dogs.
The canine critics
Let's take a look at the dogs putting these important accessories from Pets & Friends to the test.
Faye and Olive
Olive is a 1.5-year-old Labrador who is always happy and full of energy! Every morning Olives comes up the field with me to sort the horses out. This time of year, she gets muddy and wet but she loves it. While Olive is an energetic baby, she also LOVES her sleep, although she has a tendency to grab her aubergine toy and squeak it on the landing whilst I am on a work call.
Emma and Smokey
Smokey is the definition of a gentle giant. Don't be fooled by his big size, as in his mind he's still a puppy! He is very loving and always gets beside himself with excitement when I come home after being out for the day, and he loves to climb in my lap for snuggles all the time.
Lucie and Valentine
Valentine is a 3-year-old Podenco Maneto x Daschund former street dog, rescued from Spain. He loves snoozing under the blanket, going to the park to play with his squeaky ball, and spending time with his Abuela ('Grandma') who practises her Spanish by talking to him (and he understands every word!).
Taking the lead!
Long Paws Rope Leash
Made using strong and flexible rope, with soft padding over the handles, and a locking clip, the Long Paws Rope Leash is said to be perfect for tugging dogs. Providing comfort for pooch and owner, let's see if it saves your shoulders and arms from strong launchers.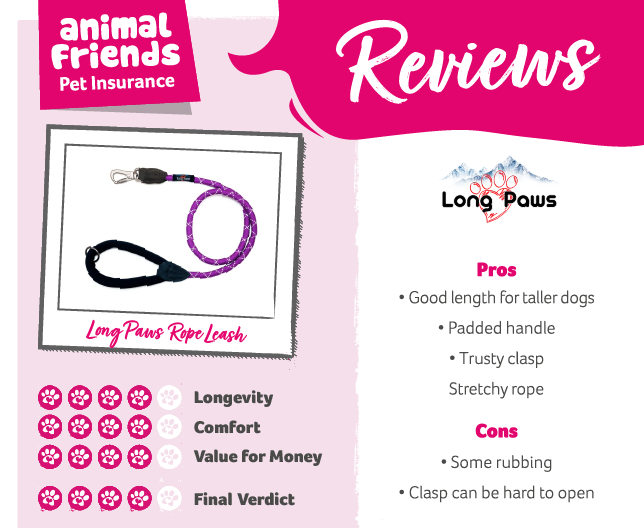 Pros
Good length for taller dogs
Padded handle
Stretchy rope
Cons
Some rubbing
Clasp can be hard to open
Longevity 4/5
Faye and Olive
I used this lead every day and the quality seems great so far. There are no snags, which I initially thought it would be prone to due to the type of material. This lead is made to a high standard, with added stitching around the handle and near the clasp.
Emma and Smokey
With how thick the rope material is, and the quality of the clasp, I would say it feels like it would last a good amount of time.
Lucie and Valentine
We've used this lead a couple of times and there's already some signs of wear on the clip. The rest of the lead is fine so far, though!
Comfort 4/5
Faye and Olive
This lead is very comfy to hold since it's nice and padded on my hand and a good length to suit Olive's height. Olive can be strong on the lead at times, so it is nice to have a padded handle. I was slightly worried about the clasp at first as I've always used the standard type. At first, I would check the safety clasp halfway through our walk to make sure it was still locked. However, I now trust this a lot more and prefer this over a standard clasp!
Emma and Smokey
I like this lead because it is the safest lead I have ever used with Smokey. With the length and the clasp, I feel very secure and confident when walking him.
Lucie and Valentine
The lead was a bit on the short side for Valentine's height. It worked well for situations where I needed to keep him close, but he likes a little freedom to snuffle about – something he didn't get with this lead.
Value for money 4/5
Faye and Olive
For a lead, this is slightly on the pricier side, however after using this I would definitely say it is good value for money and would recommend it to friends and family.
Emma and Smokey
I think it is quite good value for money because for a one-time payment, I could see this lead lasting for years.
Lucie and Valentine
It seems quite expensive compared to other similar products on the market.
Would I buy this in the future?
Faye and Olive
Yes, I would purchase in the future – love the colour too!
Emma and Smokey
I probably would buy this in the future, especially if it was for a dog that does not really pull suddenly, as then it would be the perfect lead.
Lucie and Valentine
No, we wouldn't buy this lead again – not in this size at least.
Where or when would you use this product?
Faye and Olive
I use this on every walk with Olive – it's our go-to lead!
Emma and Smokey
I would use this lead when walking in more residential areas and nearer roads because you can keep your dog close to you. If I was somewhere more rural like the countryside or woodland, I would probably use a lead that offers a little more length.
Lucie and Valentine
Whilst we didn't find this lead to be great for us, I can imagine it would be great for bigger dogs who want to walk by your side (thinking of Valentine's greyhound buddies here). I think it'd also be good for bigger puppies in this size when training them to walk at the owner's heel.
Final verdict 4/5
Faye and Olive
For us, this is the perfect lead. We simply love everything about it, and it's definitely a firm favourite here.
Emma and Smokey
Overall, I really liked this lead because it felt secure when walking Smokey and I felt confident that he couldn't run off. I like the colour and the fact that it has a clasp you have to lock in place so that it can't come undone easily. It also feels slightly stretchy, so it doesn't harshly jolt him when he pulls away. The only bad thing I would say is that if he pulled suddenly, the friction of the handle on my hand almost felt like rope burn, even though it is designed for comfort.
Lucie and Valentine
We found this lead okay. Our reason for giving it 3 out of 5 is, if it was to be used regularly, it's probably better suited to a taller dog.
Ancol Viva Nylon Snap Leash
A durable poly-weave lead with a padded handle to provide comfort for owners. A snap hook attaches easily to a dog's collar or harness while the bright, colourful lead will make them stand out wherever they go.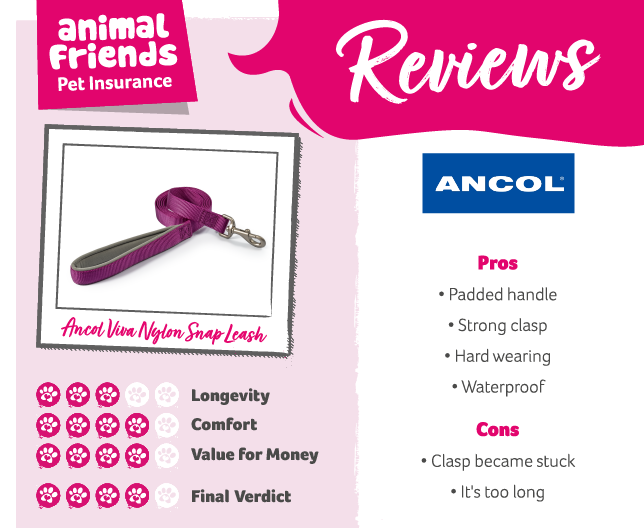 Pros
Padded handle
Bright colour
Strong clasp
Hard wearing
Waterproof
Cons
Longevity 3/5
Faye and Olive
Quality of the lead seems fine, I believe this would last a while if looked after. The colour is great for winter walks and matches Olive's LED flashing collar. I can imagine this would get dirty easily in the winter, but the material would be easy enough to wipe if this does happen.
Emma and Smokey
Due to the clasp not opening and closing easily, seeming to get stuck, this will likely create wear inside the mechanism. Aside from the clasp, the lead itself seems durable.
Lucie and Valentine
We've used this lead a lot since receiving it and there are no signs of wear or tear. The lead is made from nylon and feels like it will survive whatever adventures Valentine might take it on.
Comfort 4/5
Faye and Olive
Although I would rate comfort 4/5 for the handle, overall would be 3/5 due to the length. This product would be more suitable for owners who are happy for their dogs to walk ahead on a longer lead. If you are looking for a lead that isn't retractable but longer than a usual lead – this would be the one for you!
Emma and Smokey
The padded handle is comfortable when holding the lead at its full length, however when walking near roads and having to shorten the lead by wrapping it around my hand, this can end up being abrasive.
Lucie and Valentine
Top scores from both me and Valentine. The padded handle is fab and the lead itself is very lightweight.
Value for money 4/5
Faye and Olive
The price is reasonable for this lead!
Emma and Smokey
I think the lead is quite cheap as you can purchase this online for about £5, which in my opinion is not expensive for a lead. I wouldn't pay any more than this as the clasp does feel cheaply made which is why it is probably not that expensive to buy.
Lucie and Valentine
We think it's a great product and worth the money.
Would I buy this in the future?
Faye and Olive
Personally, I wouldn't, although the quality and the actual product is made well. I would recommend it to anyone who likes a longer lead or it would also be suitable on walks where you must keep your dog on a lead. This would allow them a little more freedom while still being under control.
Emma and Smokey
Unfortunately, I would not purchase this in the future as I would rather spend a little more money on a better-quality lead that would last longer. However, it may suit someone with a smaller budget.
Lucie and Valentine
Yes, we would definitely buy this lead again. Valentine would like the Lime Green or Black options though (he says Purple isn't really his colour).
Where or when would you use this product?
Faye and Olive
Daily walks – more so in the winter due to the bright colour.
Emma and Smokey
Out in nature when I would not need to have him on a short lead so that it can use the full length.
Lucie and Valentine
We've used this on both long and short walks, it's been great for both.
Final verdict 4/5
Faye and Olive
This isn't the right lead for us but that doesn't mean it won't be the perfect one for someone else, it's cheap enough to buy to give it a try.
Emma and Smokey
I would personally rate this 2 because it's not really ideal when I'm doing daily walks as I walk along roads, meaning I have to keep Smokey on a shorter lead and this lead is quite long. This means I end up having to wrap the lead around my hand which feels uncomfortable and seems to defeat the purpose of the cushioning on the handle. The clasp also feels as though it gets stuck easily when opening it.
Lucie and Valentine
We loved this product! Out of all 3 leads we received this is the one we have used the most. It's a really tactile lead and a good length, which means that you can easily hold it by the handle and give your dog extra freedom to play but is also easy to hold at a shorter length when you need extra control.
Ruffwear Rocky Mountains Flat Out Dog Leash
An adjustable lead that can be hand-held or worn around the waist for hands-free lead walking with a side-release buckle to make it safe to use.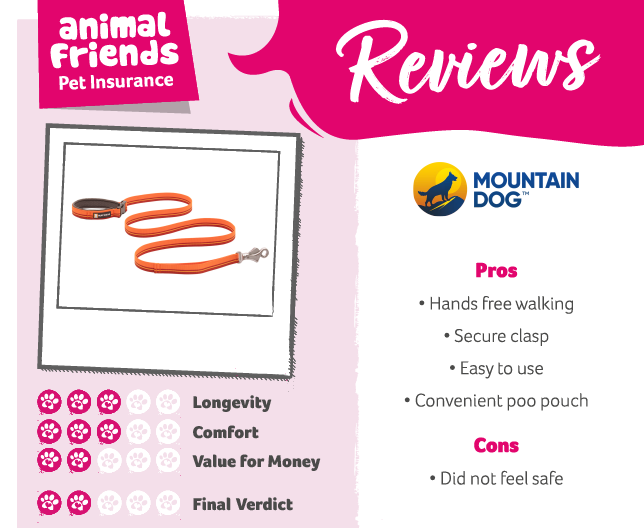 Pros
Hands free walking
Secure clasp
Easy to use
Convenient poo pouch
Multi-purpose
Cons
Longevity 3/5
Faye and Olive
Quality is okay – the lead seems very thin and no support on the area that goes around your waist.
Emma and Smokey
I can't see this lead lasting very long in our house as I think Smokey is too large to be able to be controlled this way, however, it may be longer lasting for households who have smaller dogs.
Lucie and Valentine
The lead is showing no signs of wear and tear so far. I've given this a 4 rather than a 5 because I'm not sure whether the plastic clip which is used to attach the lead around your waist will last as long as the rest of it will.
Comfort 3/5
Faye and Olive
At first this lead was very different to get used to. This was the first time we have used a hands-free style lead and although I was cautious at first it was easier than I thought it would be. Olive can pull slightly on the lead, so I did feel it tight on my back when she did. The lead is very convenient if you feel safe using this design and the poo bag compartment is a nice extra – although not suitable if you are out all day as only carries a few bags.
Emma and Smokey
I am sorry to say I really did not feel comfortable or safe using this lead because I felt like there was too much room to go wrong with this. Whilst the hands-free concept is a good idea on paper, I feel that it is not a very secure way to walk your dog. When walking Smokey, I want to make sure I feel I have enough control over the lead to stop him running out into the road or getting involved in an accident, whereas with a lead that ties around the waist, I feel that it is not secure enough.
Lucie and Valentine
It took Valentine a bit of time to get used to this one as he's always been on a handheld lead before, once he had though, it was comfortable.
Value for money 2/5
Faye and Olive
The product is a reasonable price if you are looking for this style.
Emma and Smokey
I'd probably say this lead is expensive for what it is. The material is quite thin and to me it personally feels quite cheap, and with it not being very convenient to use either, I would not say it's worth around £30.
Lucie and Valentine
Whilst this lead is clearly very well made, it wasn't our favourite and it is very expensive compared to the others, it feels like you are paying extra for the brand name.
Would I buy this in the future?
Faye and Olive
I personally wouldn't purchase again – only due to the style of lead. This does not work for me and Olive currently. When she gets older and is a little slower, this product may work.
Emma and Smokey
I can't see myself buying this in the future as I just don't find it practical and can't seem to think of a situation where I would use it. Whilst it probably is better suited to smaller dogs, I still wouldn't recommend it as I don't think it gives enough control no matter how big the dog is.
Lucie and Valentine
I would hope for the price that this lead would last forever, so there won't be a need to buy another one! If I was to change anything it would be for the clip at the waist to be made of metal rather than plastic.
Where or when would you use this product?
Faye and Olive
I can see people using this product when out for long walks or even jogging. If your dog is good on the lead and does not pull, this could be for you!
Emma and Smokey
If I was ever in a situation where I knew I would need to use my hands for something whilst also still walking my dog at the same time, provided I am not near any roads or the public, and if I had a smaller dog, then I would use it.
Lucie and Valentine
This lead is great for longer walks out in the wild, especially given that you can walk handsfree. I can imagine it would be popular for people who like to jog or run with their dog too (Valentine and I are both too uncoordinated for that to ever have a happy ending though!)
Final verdict 2/5
Faye and Olive
Maybe after some getting used to, we'd like this lead more but for now, we don't think this is the right lead for us.
Emma and Smokey
This is a lead that ties around your waist so you can walk your dog hands free, and whilst I think this is a good idea for smaller dogs, I did not find it to be beneficial with Smokey as he is larger and stronger, so can easily pull me about. It also did not feel very safe as I did not have much control over him around roads.
Lucie and Valentine
We liked that this lead can be used as either handheld or as a waist lead.
Read more news articles, opinion pieces, reviews and personal stories behind our dogs on our blog.
Dog insurance can help cover the cost of veterinary treatment if your dog gets injured or falls ill.
We know pets
Animal Friends Insurance is a multi-award winning FCA-regulated pet insurer, founded in 1998 to provide industry-leading pet insurance and first-class animal care to create a better life for every animal.
As one of the UK's largest pet insurance providers, Animal Friends works with vets, veterinary professionals, and partners pioneering the latest veterinary technology & healthcare advancements to achieve our vision.
Our policyholders have helped donate over £7.8 million to more than 700 animal charities worldwide and by educating and inspiring others to act on current events and responsible pet ownership, Animal Friends is driving positive change for animal welfare and conservation.