31st March 2015
Biscuits are a snacking staple and, though your cat won't benefit from the ingredients in human biscuits, you could always try an recipe for cats. This one for small cat biscuits includes chicken liver for vitamins and protein.
These biscuits are intended to be given sparingly as an occasional treat and should not be considered a replacement for their regular cat food. Remember to account for any treats in their daily calorie intake and consult your vet if you have any concerns about your cat's diet, weight or general health.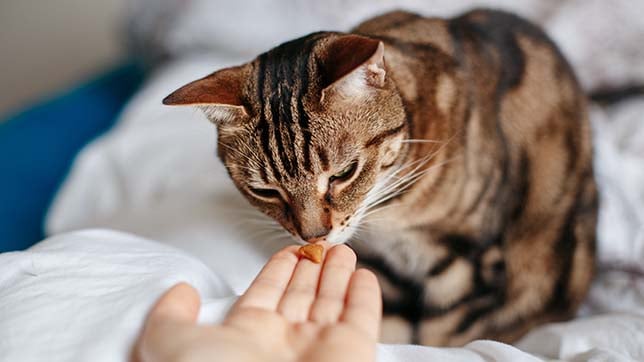 Cat biscuits
2 chicken livers
1 sweet potato
1 tablespoon of flour (you can use rice, oat, bran or wholemeal flour)
A drizzle of oil
Fry off the livers so they are well-done but still soft. Then set them aside to cool with their juices.
Peel and slice the sweet potato into thumb-sized pieces, then boil or steam until they are very soft. Drain them and leave them to cool, letting any steam escape so there isn't too much moisture left.
Pulse the cooked, cooled sweet potato and liver in a food processor until it reaches a very smooth consistency. It may look a little like baby food at this point.
Remove the puree from the blender and add a small amount of flour. Depending on the size of your sweet potato you may need a little more or a little less flour, but you're aiming for a relatively dry dough.
Once your dough is thoroughly mixed, pinch off very small pieces and drop them onto a lightly oiled baking sheet. If you like you can roll them into balls first. These biscuits should be tiny, only about the size of a little fingernail.
Bake in the oven at 180 degrees until they harden and brown. This should take about 6-12 minutes and will depend a little on how wet your mixture was. Keep a close eye as undercooked treats won't last as long and overcooked treats will be very hard.
Remove from the oven and leave to cool completely before giving to your cat. They can be stored in an airtight container for a few weeks.
Cooking for your pet is a great way to show that you love them, but take care to account for any allergies, food sensitivities, dietary concerns or illnesses that may cause an adverse reaction to new foods. If you have any concerns about your cat's health it is best to consult your veterinarian before you introduce new foods or recipes.
If you found this article useful, why not visit our cat blog for more news, insight and opinion pieces?
Cat insurance can help cover the cost of veterinary treatment if your cat gets injured or falls ill.
We know pets
Animal Friends Insurance is a multi-award winning FCA-regulated pet insurer, founded in 1998 to provide industry-leading pet insurance and first-class animal care to create a better life for every animal.
As one of the UK's largest pet insurance providers, Animal Friends works with vets, veterinary professionals, and partners pioneering the latest veterinary technology & healthcare advancements to achieve our vision.
Our policyholders have helped donate over £7.8 million to more than 700 animal charities worldwide and by educating and inspiring others to act on current events and responsible pet ownership, Animal Friends is driving positive change for animal welfare and conservation.