19th May 2021
When you move house, changing your pet's microchip details is not usually top of the list of things to do. But it should be. Some say that the current surge in property sales could lead to fewer cats and dogs being reunited with their families, because updating the contact details stored on their pet's vital microchips is often overlooked once they've moved.
To make matters worse, with DogLost reporting a 170% increase in dog theft since the start of the pandemic and the Pet Theft Reform identifying 1,504 dog thefts in 2020, many pet owners could be jeopardising any chance of a future reunion with their pets by not keeping microchip contact information up to date.
We are now offering to store microchip numbers on behalf of our customers and their beloved pets. This new option will allow this potentially vital information to be added to their insurance details, which will give vets or rescue centres treating a rescued animal a greater chance of being reunited with their owner if the microchip details are out of date.
We are going to be contacting over one million of our customers to let them know they can now include their pet's microchip details alongside their policy and remind them of the importance of keeping microchip information up to date. We're hoping that with the increased reports of dog theft and the rise in people moving home, this change will give our customers greater confidence that should their pet go missing they can access their microchip details quickly.
In February, the Department for Environment, Food and Rural Affairs (DEFRA) ran a consultation to seek views on a proposal to make cat microchipping a compulsory requirement of cat ownership in England. It is not currently a legal requirement for owners to microchip their cats, unless the cats are travelling under the EU Pet Travel Scheme or have been commercially imported.
Poll results from our research found:
93% of people microchip their cat
89% of people believe it should be compulsory
67% of people believe it would be helpful to have microchipping details tied to a pet insurance policy
93% of people believe there should be a financial penalty for not microchipping your cat.
A microchip only contains a 15-digit number. The owner's phone number, address and email are held on one of several UK pet databases, accessible via this number. However, if the details are out of date, the microchip is rendered useless.
Westley Pearson, our Chief Executive Officer, said:
"I'm hopeful and confident DEFRA will do the right thing and will soon make it mandatory for cat owners to microchip their cats. This move could help thousands of more cats in the UK if they are lost or stolen.
"Delight often turns to dismay when vets, council dog wardens or animal rescue centres realise the owner's information on the microchip is out of date. While we can't help yet with updating the details on the microchip, we can give our customers an additional level of assurance that should they forgot to keep their pet's details up to date, there is still hope that they may be reunited with their beloved cat or dog.
"I can't state how important it is to update your cat's or dog's microchip information as soon as possible if you move house. It's the easiest way to increase the chances of finding your much-loved family member. I'd also encourage our Animal Friends customers to store their microchip details with us, so that we can provide an extra level of protection should their cat or dog be stolen."
Who to trust
Sadly, fraudulent microchip websites do exist so it's important to check which sites are reputable and have Government approval before you get your cat, dog or any other pet chipped. Trading Standards warns against certain sites and if you've inadvertently registered your pet's microchip on an unapproved database you could face a £500 fine.
You can find the list of Government approved microchip databases by visiting: www.gov.uk/get-your-dog-microchipped
Check your chip
If you're unsure as to which database your pet is registered with, you can find that information on Check a Chip.
Did you know that there's now a FREE pet microchip database and lost pet service? Pet Database believe every pet deserves to be found and are UK's only 100% free Defra-compliant service.
If your pet's microchip registration is stored with a fraudulent site, when you enter the 15-digit number into Check a Chip it will inform you that it is 'not registered'.
Top tip
Add your dog or cat to your phone contacts, but include their insurance policy number, microchip number and database instead of the usual information you would save. You might want to save the local animal warden's number just in case, as this will make it easy to find if you ever need to contact them.
If you found this article useful, why not visit our cat blog for more news, insight and opinion pieces?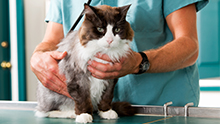 Cat insurance can help cover the cost of veterinary treatment if your cat gets injured or falls ill.