West Highland Terrier breed guide
Height
10 inches (female) to 11 inches (male) at the shoulder
Weight
15 – 22 pounds (male and female)
Lifespan
12 – 16 years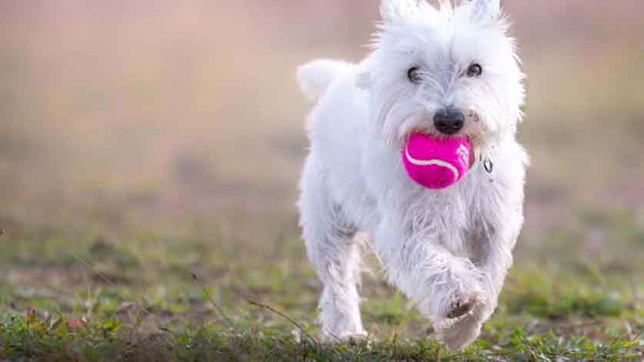 History
The West Highland Terrier originates in Scotland and was bred for hunting and killing small rodents. Affectionately known as the Westie, this breed is descended from the Scottish terrier group of dogs which can be traced back as far back as the 15th century.
It is believed that the Westie owes its existence to just one person; Colonel Malcolm, the 16th Laird of Poltalloch, was involved in a disastrous hunting accident, in which he accidentally shot one of his beloved dogs mistaking it for a fox. Determined to prevent this from ever happening again, Colonel Malcolm kept only white and cream coloured highland terriers because they were more visible out in the field.
Appearance
Characterised by their pointy ears and compact stature, Westies are a robust little dog with a harsh white outer coat and a soft undercoat. They have dark, almond shaped eyes and a black nose, boasting muscular legs and a deep-set chest. A Westie's skin colour is usually a light pink, however it's not uncommon for their skin to turn black due to pigmentation or certain skin disorders.
Temperament
Westies are bold, independent and courageous but are nevertheless a friendly breed of dog. They are stubborn yet happy-natured and lively, and are somewhat easy to train (when they feel like it!). They are alert and can be vocal when a stranger enters their territory, and can be dominant towards unknown dogs, particularly those of the same sex.
While they are all-round good family dogs, they would prefer to live in a home with older children. Westies are great fun to play with owing to their high levels of activity and require a minimum of 30-60 minutes of exercise a day – two brisk walks will do the trick.
Things to watch out for
Westies love to bark and are natural watchdogs. The West Highland Terrier can be prone to minor health problems such as Atopic dermatitis which is a skin disease common in this breed, meaning they require a little more grooming attention. They need to be groomed approximately once a week and bathed every couple of weeks. The Westie tends to dig around frequently – it's what they do best, so they may create lots of holes in your garden if given the chance!
Is a West Highland Terrier the breed for me?
Due to their chasing instincts, you need to watch out for Westies around small animals such as bunnies and guinea pigs; if you have small animals in your home, you may wish to consider another breed. However, if you live in a family home with older children, are after a dog that can be left alone for up to several hours a day, sheds very little, and doesn't require a lot of exercise, the Westie would be the perfect pup for you. If you don't mind the barking and the possible digging, there won't be a dull moment with this charming little dog.
Did you know?
We offer insurance for West Highland Terriers from just 4 weeks old! Check out our dog insurance page to learn more.
Find the information you need as we support you through every step of your journey with your canine companion.
Dog insurance can help cover the cost of veterinary treatment if your dog gets injured or falls ill.
We know pets
Animal Friends Insurance is a multi-award winning FCA-regulated pet insurer, founded in 1998 to provide industry-leading pet insurance and first-class animal care to create a better life for every animal.
As one of the UK's largest pet insurance providers, Animal Friends works with vets, veterinary professionals, and partners pioneering the latest veterinary technology & healthcare advancements to achieve our vision.
Our policyholders have helped donate over £7.8 million to more than 700 animal charities worldwide and by educating and inspiring others to act on current events and responsible pet ownership, Animal Friends is driving positive change for animal welfare and conservation.