What can I feed my dog when I've run out of dog food?
over the last few days, there has been extensive coverage in the media concerning a shortage of some dog food products in supermarkets, after more than 2.1m people collected a new pet during the nation's lockdown.
If you are struggling to get your hands on your usual dog food, here are some safe alternatives that you can find in your fridge, to ensure your dog receives the food they need.
A few things to consider before providing an emergency meal
Whilst you'll be able to provide a suitable alternative from your fridge or cupboards to make up a meal for your dog, these suggestions are not nutritionally complete and are not designed to replace their proper diet.
These are emergency meals designed to provide you with enough time to get your dog back to it's normald feeding program.
Always make sure your chosen ingredients are low in salt and/or fat as this can cause excessive thirst and stomach problems in dogs. Consider your dog's special dietary needs or allergies and avoid any food that may make them ill.
How to make dog food when you've run out
Making a quick meal for your dog can be easy, as long as you have the right ingredients. Here are some things you can feed your pooch from your fridge or cupboard:
Bananas
Blueberries
Broccoli
Carrots
Cooked boneless lean meat (chicken, beef, or turkey)
Onion-free gravy for taste
Plain boiled rice
Plain, unprocessed oatmeal
Peanut butter (no xylitol)
Peas
Scrambled eggs
Sweetcorn
Providing a combination of the foods above can help keep your dog happy until you can get their regular food.
Foods to avoid when making a quick meal for your dog
Not all food is dog-friendly so there are some ingredients you will need to avoid to prevent your dog from eating something toxic.
Avoid these foods when prepping your pet's meal:
Avocado
Alcohol
Caffeine, coffee and tea
Corn on the cob (the cob can cause a blockage)
Cooked bones
Grapes, raisins and sultanas
Onions, garlic and chives
Salt
Sugar
Sweets or chocolate
Xylitol (an artificial sweetener)
Please remember to be mindful of the quantities you feed your pet and please be considerate of other pet owners needs when buying pet food. Always speak to a vet if you have any concerns about your pet's needs.
Find the information you need as we support you through every step of your journey with your canine companion.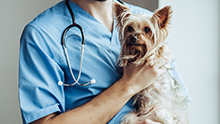 Dog insurance can help cover the cost of veterinary treatment if your dog gets injured or falls ill.