28th November 2022
The current cost of living crisis means that some families are now left budgeting to get by, with many people looking to cut back on activities in the coming months.
With around three in four adults reporting feeling very or somewhat worried about the rising costs, we wanted to help make sure that everyone enjoyed small moments of joy even if times are hard by sharing ways to entertain the family without breaking the bank.
Have a local picnic
Making a picnic can break up your mealtime routine and make a nice change from eating at the dinner table. Get the kids involved by letting them help you choose the perfect spot for your picnic, and make sure that any canine companions can join you on your outing. If you can't come to an agreement on the location, you could even have it in your garden!
You don't even need a picnic basket to pack your food, any bag will do, or you could even decorate a cardboard box to carry all of your picnic essentials. An old bed sheet makes a great blanket and don't forget to bring a ball, Frisbee, bubbles, or any other outdoor activities to keep everyone entertained.
Don't forget: No picnic is complete without your pooch, so don't forget to take something for them to munch on, too.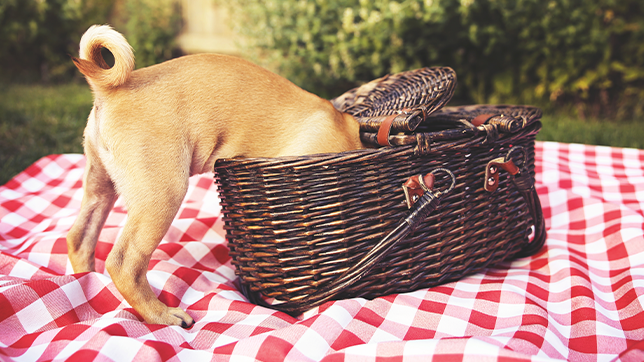 Head out to a National Park
There are 15 National Parks in the UK, 10 in England, three in Wales and two in Scotland, giving you endless options for outdoor fun with the family. From the rugged landscape of Snowdonia to the wild open heathlands of the New Forest, there's something for everyone and closer than you might think! So why not make a picnic, get your dog ready and explore your nearest National Park for a day of fun on a budget?
Start Geocaching
If you're looking for something to keep everyone busy for free, you could try Geocaching in which an item, or a container, is hidden at a particular location for you to find through coordinates shared online or through the app. Geocaching can be enjoyed wherever you are and allows you to organise weekend activities for the family (dog included) that don't cost an arm and a leg.
Go Pokémon hunting
If you have children, you might already know all about Pokémon GO, an app that lets players capture, train and fight Pokémon located in the real world… well, sort of. The app encourages people to get outside, promotes exercise and is great fun for people of all ages. So, are you ready to catch 'em all and have fun while doing it? Pokémon hunting is just the thing for you.
Pet tip: The app's augmented reality feature lets Pokémon appear anchored to your real-world environment, meaning you can create some awesome snaps involving your cat or dog.
Have a family movie night
Keep it simple with a movie night at home, eating food you already have in your cupboard or fridge! The best thing about staying in and getting cosy on the sofa is that your pet can be a part of it, too!
Top tip: to avoid any arguments on what to watch get everyone to write their suggestion on a piece of paper and put it in a bowl, shuffle them all and pick one at random.
Try your hand at rock painting
Rock painting is an excellent way to do some family crafting without spending a lot of money. You might already have what you need but bargain shops will have everything to get you started, which is some paints and a few paintbrushes!
You should be able to find some smooth stones around your local community, just give them a quick clean and they're ready for a colourful facelift! Once you're done, hide them in your local community next time you're out with your pooch for others to find.
Pet tip: Make a pet-friendly paint using cornflour, salt, water and food colouring and add their paw print to one of your rocks! These can make great gifts, too.
Have a puzzle challenge
For those rainy days, you could try having a puzzle challenge. You might already have jigsaw puzzles at home but if not, charity shops often sell complete sets at a cheap price so you can compete to see which team can complete the puzzle in less time.
Bonus: You could buy a personalised jigsaw puzzle featuring a favourite photo of your pet. It'll be even more fun trying to piece together the cuteness!
Do you have any go-to affordable activities to keep everyone happy when money's tight? Let us know on our Facebook or Twitter page to help share the fun with others.
Read more news articles, opinion pieces, reviews and personal stories behind our dogs on our blog.
Dog insurance can help cover the cost of veterinary treatment if your dog gets injured or falls ill.
We know pets
Animal Friends Insurance is a multi-award winning FCA-regulated pet insurer, founded in 1998 to provide industry-leading pet insurance and first-class animal care to create a better life for every animal.
As one of the UK's largest pet insurance providers, Animal Friends works with vets, veterinary professionals, and partners pioneering the latest veterinary technology & healthcare advancements to achieve our vision.
Our policyholders have helped donate over £7.8 million to more than 700 animal charities worldwide and by educating and inspiring others to act on current events and responsible pet ownership, Animal Friends is driving positive change for animal welfare and conservation.