10th December 2020
What a strange year it's been, working from home, endless video calls, socially distanced dog walks and ever-changing plans. There's no doubt that Christmas will be different this year, especially with travel restrictions and 'bubble' guidelines in place, but we're here to help you make the most of a different Christmas with your pet and family.
Support small, local businesses
As we know, most delivery companies have been busy all year and things will only get busier during the festive period. To avoid disappointment and to make sure your cat or dog has something under the tree on the big day, why not place an order with a local pet shop?
Book a doorstep portrait
A lockdown craze – doorstep portraits swept the nation during local lockdowns, with families wanting something to look back on from the strange times that we found ourselves in. If you haven't already done so, why not book a portrait of you and your family (pets included) and have some Christmas fun? Grab your best (or worst) Christmas jumper and Santa hats and get ready to smile!
Make your own gifts
If you're stuck for gifts or unsure if they'll arrive in time, why not have a go at making your own? Whether you'll be getting crafty for a cat or a dog, there are DIY recipes out there for every pet owner. If you have an old t-shirt or jumper to spare, you could try creating a new toy for your pooch. Or if you're in need of a gift for a feline friend, why not try one of these fantastic creations?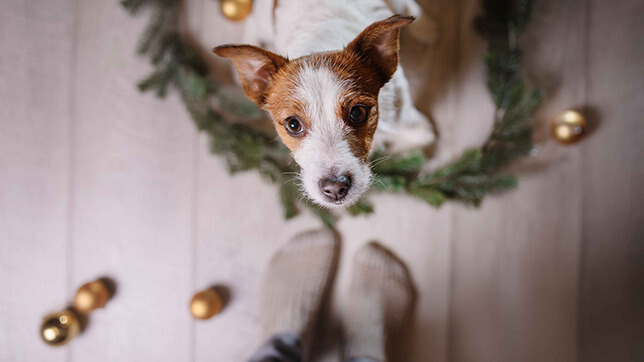 Meet up with a friend (safely)
With changes to restrictions, going back to work and the rush of Christmas shopping, it can be easy to forget about this year's effects on our pets. It's been strange for them too. Make sure to find time for some familiar faces for your pet to say hello to, if you're allowed. If there was a friend you would always meet up for dog walks or a neighbour that would pop in to check on your cat, make sure to keep some normality for you and your pet.
Make a donation
Charities need our help more than ever this Christmas. If you can, why not make a donation to a local animal shelter. This doesn't have to be monetary, there are many charities who need to keep their animals clean and warm over winter so often look for items like:
If you have decluttered in time for Christmas, you might be looking to rehome some things so why not drop them off at a charity shop or shelter? Some charities have also set up Amazon wishlists where supporters can buy their most needed items without having to worry about delivery or drop-offs. You could also keep an eye out for local shoebox appeals where you fill a box full of goodies for a lucky animal to open on the big day.
Whatever you get up this Christmas we hope you stay safe and have fun!
Read more news articles, opinion pieces, reviews and personal stories behind our dogs on our blog.
Dog insurance can help cover the cost of veterinary treatment if your dog gets injured or falls ill.
We know pets
Animal Friends Insurance is a multi-award winning FCA-regulated pet insurer, founded in 1998 to provide industry-leading pet insurance and first-class animal care to create a better life for every animal.
As one of the UK's largest pet insurance providers, Animal Friends works with vets, veterinary professionals, and partners pioneering the latest veterinary technology & healthcare advancements to achieve our vision.
Our policyholders have helped donate over £7.8 million to more than 700 animal charities worldwide and by educating and inspiring others to act on current events and responsible pet ownership, Animal Friends is driving positive change for animal welfare and conservation.