26th February 2017
We all know that dogs are a man's best friend but we set out to discover the true cost of looking after our furry friends. Our research has found that on average caring for a dog will set an owner back more than £9,763 over their lifetime.
Surprisingly, our research also found that the Dachshund breed was the most expensive to care for, with total yearly costs amounting to almost £12,000. You may be surprised to hear this considering that sausage dogs are so small but they have an extended lifespan of around two years longer than the typical canine.
Following as the second most expensive dog breed to care for was the Jack Russell, just ahead of the Schnauzer. The Yorkshire Terrier and Chihuahua also made the top five.
Coming out as the cheapest breed to care for was the Rottweiler, despite their large appetite and love for food! Closely followed were the Bulldog and Akita. The Greyhound and Shar Pei were also noted as being amongst the less-expensive dog breeds.
Our research found that the average canine weighs around 17kg and will munch on £2,800 worth of food over their lifetime. That's a staggering 2,735 tins of dog food!
As everything that enters your dogs' body will find its way out, it'll come as no surprise that the average pet owner will pick up 12,034 poos over their dogs' lifetime if they're sticking to the healthy bowel movement of three times each day.
Dog owners will also spend an average of £898 on doggy shampoo and almost £950 on dog toys throughout their pet's lifetime.
With a booming pet industry and Brits being expected to spend a massive £5 billion every year on their furry friends, pet owners can expect to foot an average bill of £4,114 in vet bills based on bi-annual trips to the vet.
However, we know that the cost of keeping our pets is just a small price to pay in return for the companionship, loyalty and happiness that our dogs provide us with. Along with the emotional support that our pets give us, we also get the health benefit of walking an average of 505 miles throughout our dogs' lifetime!
Remember to always consider costs before getting a new dog.
If you found this article useful, why not visit our dog blog for more news, insight and opinion pieces?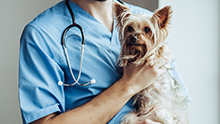 Dog insurance can help cover the cost of veterinary treatment if your dog gets injured or falls ill.