17th February 2015
It's that time of year again and many of us are looking forward to having pancakes! Maybe you had yours for breakfast with maple syrup and bacon, or perhaps you're having yours for tea with lemon juice and a little sprinkling of sugar.
However you like yours, the usual pancake recipe with milk and white flour isn't ideal for our pets. But, with some clever substitutions you can make gluten and dairy-free pet-friendly pancakes that your furry friend will love!
What you'll need
1 Banana
1 egg
3 ½ tablespoons low-salt, xylitol-free peanut butter
What to do
Put all of your ingredients into a blender and pulse until they make a smooth batter.
Heat up a non-stick frying pan with a few drops of oil, just enough to coat the pan.
Spoon small amounts of the batter into the pan and leave to cook on one side for 2-3 minutes. Once crispy, flip over to cook the other side.
Once cooked on both side, remove your pancakes from the pan and leave to cool. We don't want any burnt tongues!
And that's all there is to it!
If you want to make them a little more exciting you can serve them with toppings like tinned fish, vegetables or a little bacon if you're feeling very naughty! It's worth remembering that cats can't grind their teeth to break down food so it might be best to make very small pancakes or to cut them up into little bite-sized chunks.
Just remember that chocolate, grapes and raisins are all toxic, as are some nuts. Treats should be counted into your pet's daily calorie intake to prevent weight gain and please be aware that some animals will have allergies and intolerances to certain foods. If you are at all concerned about introducing a new food to your pet's diet then please consult your veterinarian before doing so.
If you found this article useful, why not visit our dog blog for more news, insight and opinion pieces?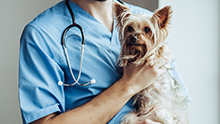 Dog insurance can help cover the cost of veterinary treatment if your dog gets injured or falls ill.