Abandoned and relinquished cats, dogs, and horses around the country rely on the phenomenal work of volunteers and charities to give them the care and love they need while they wait for their forever homes.
At Animal Friends, we know that this year has been challenging for many of us, including these small but dedicated charities - which is why we'll be sharing £50,000 to support struggling pet charities across the UK. But, we need your help!
By nominating a local registered pet charity close to your heart, you could help make a rescue's Christmas a little more special.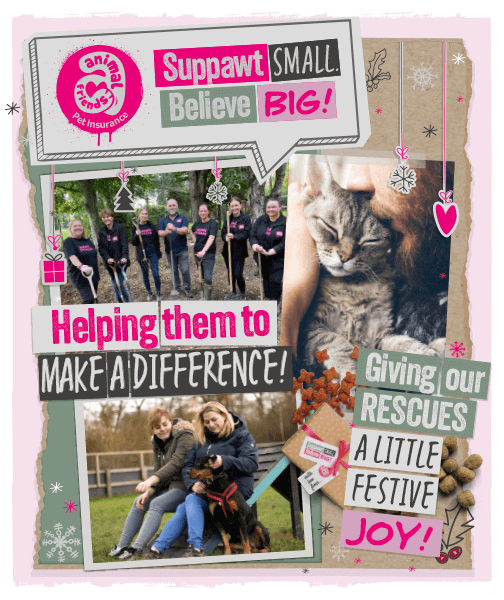 How can I get involved?
All you need to do to help your local pet charity is complete this short form before 16th December 2023 – we'll take care of the rest!

Nominate a charity
Wrap up your year with a feel-good nomination.

Feel good
As a thank you, for every pet charity you nominate, we'll enter you into a giveaway for a chance to win a £100 e-voucher. T&C's apply.

Spread the word
Let your friends know and get them involved too!
You don't need to know the ins and outs of what your local pet charity needs, the important thing is that you want to help.
Your nomination could be for any number of reasons, whether it's for:
A tasty Christmas meal
Extra blankets and beds
New leads, collars, harnesses and bowls
New toys
Vital vet treatment
Funding for pet food to help keep a pet with their owner this festive season
If you do not consent to us contacting you in relation to the 'Suppawt small. Believe big' nomination, we will only use your personal data for the purposes of administering this charity campaign and the giveaway, after which, it will be deleted.
T&C's apply.
If you want to know how we use your personal data, please see our privacy policy.
Join our community of people wanting to do good with a simple nomination and know you've helped give a vulnerable animal a happier tail to tell this Christmas.
Nominations from customer and the general public will be open from 09:00 on 23rd November 2023 to 23:59 on 16th December 2023. Any nominations submitted after this date will not be considered. Charity requests for general funding support will be considered in line with our standard application process.
Map of Nominations
This map shows the location and details of each charity nominated.