Guide to Summer Dog Walk Safety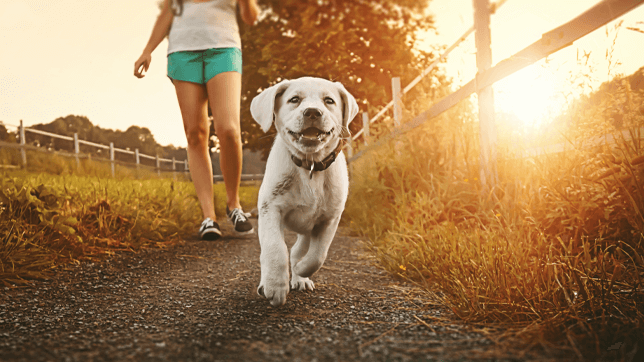 Enjoying a summer dog walk can be fun and rewarding for the two of you, but they can also host hidden risks and dangers. You want to be able to enjoy the summer months with your pooch, and taking the right precautions can mean just that. We have a few tips below for all the different elements and walks you might encounter and how to keep your best friends safe over the next few weeks.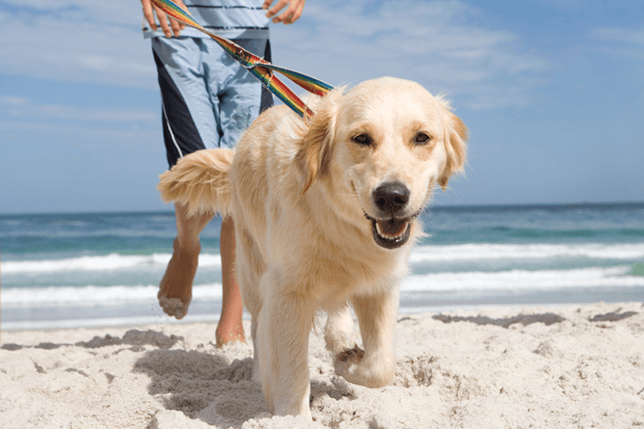 Summer Dog Walk at the Seaside
Once you've found a dog-friendly beach you'll now need a few things to make sure you're all safe. Shade is key. This can be used for children and dogs alike and could be in form of an umbrella or parasol. You'll also need to provide fresh water as sea water is neither tasty or safe for your dog.
When it comes to stepping onto the beach the same rule applies to sand as it does to pavements. If it's too hot for you, it will be too hot for your dog. It doesn't mean that your pooch has to miss out, though. You could visit in the morning, or in the evening when it's a little cooler for the two of you.
Once you've found your perfect time, beach and day the fun truly begins. The sea offers a challenging game of fetch while cooling down your dog but remember this all depends on the breed and stamina of your pet. They might be happy with a paddle rather than a swim, and that's okay, too. Never underestimate the water.
We like making sure there's a wet towel next to the parasol so that they can have a cool nap once they're done with the sea. Or, if you're all done for the day, be sure to rinse your dog's coat with some fresh water to rid of the salt from the sea, then simply dry and hop back into your car.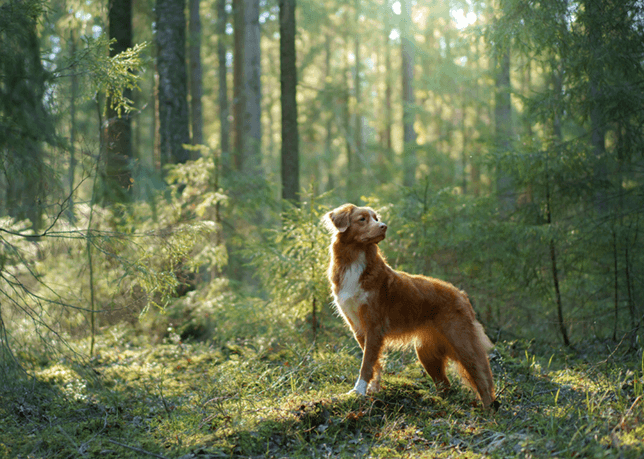 Forests, Fields, Fleas and Ticks
These walks are popular whatever the weather or season but there are pests lurking and waiting. Fleas and ticks like hiding in the dirt and grass that your dog might like snooping in. This doesn't mean you should stop going for walks in your favourite woods, or along empty fields, there are just a few precautions to take.
Firstly, make sure your dog has been treated with some preventative. If you are unsure always seek advice from your vet. These will make your dog inhabitable. This just means that fleas and ticks won't be able to hitch on your pet for long before falling off.
Once home after your walk, you should still check over your dog's fur for any unwanted visitors. Ticks are quite easy to find. They will likely be the mysterious small bumps you feel when your run your fingers over your dog. Be sure to check between their toes, in their armpits and around their ears, too! If you do find a tick on your dog and you're unsure about what to do visit your vet, they'll be more than happy to help.
Grass Seeds
Grass seeds can pose a risk, too. We wrote an entire blog just on their dangers a few summers ago. You can read that here. Their pointed head and arrow-shaped fibres enable them to cling on to fur, and their awn makes travelling backwards extremely difficult. It's quite easy for the seed to then penetrate your pets' skin, causing irritation, inflammation and infection. If you think they may have a grass seed stuck somewhere in their body you will need to make a trip to the vet.
Safety is key on your summer dog walk but remember, so is fun!
Find the information you need as we support you through every step of your journey with your canine companion.
Dog insurance can help cover the cost of veterinary treatment if your dog gets injured or falls ill.
We know pets
Animal Friends Insurance is a multi-award winning FCA-regulated pet insurer, founded in 1998 to provide industry-leading pet insurance and first-class animal care to create a better life for every animal.
As one of the UK's largest pet insurance providers, Animal Friends works with vets, veterinary professionals, and partners pioneering the latest veterinary technology & healthcare advancements to achieve our vision.
Our policyholders have helped donate over £7.8 million to more than 700 animal charities worldwide and by educating and inspiring others to act on current events and responsible pet ownership, Animal Friends is driving positive change for animal welfare and conservation.