Why it's important to maintain your dog's walking routine in winter
While some dogs love to head outside whatever the forecast, other owners might struggle to get their pooch to the door during the colder days.
59% of owners we surveyed said they adapt their walk depending on the weather but, despite the drop in temperature, it's important to maintain your dog's routine to help keep them happy and healthy over the winter months.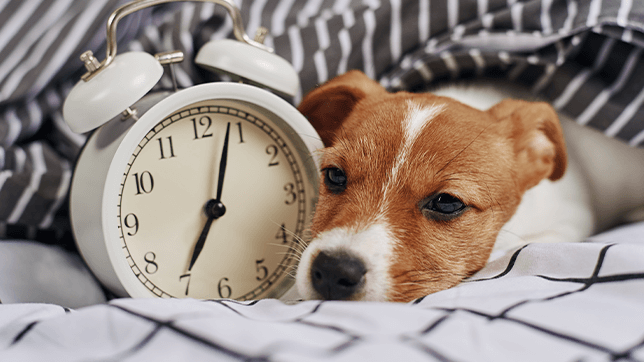 Is a walking routine really that important?
There are a lot of reasons why sticking to a routine is important for your dog, but it has plenty of benefits for you, too! If you're seeing their daily walks as just a chance for them to go toilet, you couldn't be more wrong. Here's why you should stick to your usual adventures in winter.
Maintains their health
A dog that doesn't get the chance to exercise is at risk of becoming overweight which, as a result, can cause a lot of problems with their health, joints and bones. Giving them the chance to burn off their energy will also make them a happier canine and possibly a better-behaved one, too!
Owner health benefits
Dog owners also enjoy a number of health and social benefits from taking their dog for a walk, even if it's a few times a week. These include lowering blood pressure helping lower stress while also providing an opportunity to reduce loneliness if you meet and chat with other dog walkers.
Helps keep them socialised
Heading out and about with your pooch gives them the chance to interact with other dogs and people they wouldn't usually encounter at home. This is so important to help teach them how to behave around animals and humans, especially if they're young.
Provides mental stimulation
Regularly walking your dog and letting them sniff the world around them provides them with the essential stimulation needed to enjoy life to the full. If you're not able to walk your usual route because of the weather, why not try somewhere new? They'll still appreciate the chance to explore their surroundings, even if it's not what they're used to.
Keep on top of their training
Whatever age your pooch might be, heading outside on a walk with them means you're always working on their lead etiquette and keeping on top of their recall without even knowing it!
Regardless of how you feel about the weather outside, if it's safe to do so, you should stick to your dog's usual walking routine. Not only is it good for your dog, but there's also plenty of benefits for you, too!
Find the information you need as we support you through every step of your journey with your canine companion.
Dog insurance can help cover the cost of veterinary treatment if your dog gets injured or falls ill.
We know pets
Animal Friends Insurance is a multi-award winning FCA-regulated pet insurer, founded in 1998 to provide industry-leading pet insurance and first-class animal care to create a better life for every animal.
As one of the UK's largest pet insurance providers, Animal Friends works with vets, veterinary professionals, and partners pioneering the latest veterinary technology & healthcare advancements to achieve our vision.
Our policyholders have helped donate over £7.8 million to more than 700 animal charities worldwide and by educating and inspiring others to act on current events and responsible pet ownership, Animal Friends is driving positive change for animal welfare and conservation.