Compulsory microchipping in horses
Your horse might already be microchipped, or your thinking about getting one implanted but did you know that there are now regulatory deadlines for when your equine must be microchipped by? It was introduced in June 2018 and aims to help with tracking the owners of abandoned, lost or stolen horses.
So, with the deadlines looming, we look at The Equine Identification Regulations and what it means for horses and their owners around the UK.
Why has compulsory microchipping been introduced?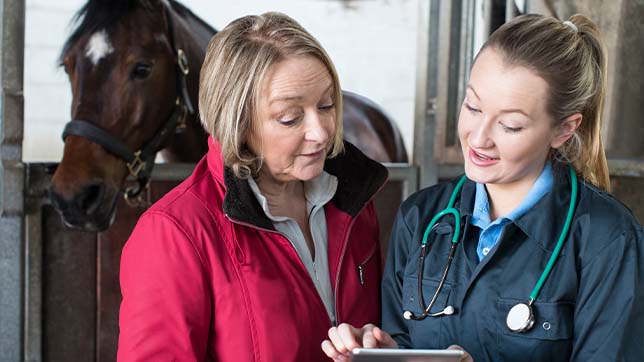 The RSPCA had almost 1,000 horses in their care on Christmas Day in 2017, many of which were not microchipped therefore not traceable. The charity found themselves in the midst of an equine crisis and these animals are still being found sick, neglected or dumped every week.
While horses born after 30 June 2009 are already required to be microchipped, the extension given for older horses to be microchipped will help reunite lost or stolen horses but also be able to help those animals that have been abused, neglected or dumped regardless of their age.
This will help ensure that horses, ponies and donkeys are given the care they deserve and if not, that those who mistreat them will be bought to justice.
It's hoped that microchips will also discourage thieves to steal horses, too, meaning that equines will be safer overall. And, if they are stolen, a microchip makes it easier for you to be reunited with them.
When do i need to get my equine microchipped?
If your horse was born after July 2009, it's already mandatory to have them microchipped but for older horses, they must be microchipped by:
1st October 2020 in England
12th February 2021 in Wales
28th March 2021 in Scotland
Owners who fail to get their horses microchipped could face sanctions from their local authority and even a fine of up to £200.
What do equine owners need to do?
Owners or keepers of a horse, pony or donkey have a legal obligation to make sure that their animal is microchipped, registered with the Central Equine Database (CED) and that the details are kept up to date.
If your horse is not already microchipped, you might want to speak to your vet to get an appointment. The procedure is relatively straightforward, with a chip being injected into the nuchal ligament which is on the left side of the next just below the mane.
Your vet will scan the chip before and after its implantation to make sure it's working, and all details of you and your horse will be uploaded to the CED.
How much will it cost to microchip my horse?
Microchipping costs can vary depending on the vet practice, but they usually cost around £25 to £30. If the vet has to come to you there will be an additional fee for this, but this information will be available from your practice.
What is the central equine database?
The Central Equine Database is a centrally managed database which will stores details from the microchip information. You can check if your details are up to date, if the data held about you or your horse is accurate and it can be used by the police or local authorities to trace owners of horses that are found running wild or suffering abuse.
It also allows potential buyers to check if the horse they're interested in has been reported stolen.
So, if your horse, pony or donkey doesn't have a microchip don't forget to set a reminder to get it done before it becomes compulsory to do so or you could be faced with a hefty fine.
Your horse's details can be added to your policy in our Customer Hub so that you have them to hand should you ever need them.
Support and advice so that owners and riders can take the very best care of their equine.
Horse insurance can help cover the cost of veterinary treatment if your horse gets injured or falls ill.
We know pets
Animal Friends Insurance is a multi-award winning FCA-regulated pet insurer, founded in 1998 to provide industry-leading pet insurance and first-class animal care to create a better life for every animal.
As one of the UK's largest pet insurance providers, Animal Friends works with vets, veterinary professionals, and partners pioneering the latest veterinary technology & healthcare advancements to achieve our vision.
Our policyholders have helped donate over £7.8 million to more than 700 animal charities worldwide and by educating and inspiring others to act on current events and responsible pet ownership, Animal Friends is driving positive change for animal welfare and conservation.