How to save money on cat food
Having a cat as a pet is incredibly rewarding, but the cost of caring for your feline friend can also be expensive, especially as the cost of living continues to soar in the UK.
Are you wondering how to keep meeting your cat's nutritional needs without breaking the bank? Keep reading for everything you need to know about feeding your cat while saving money.
Buy in bulk
Buying cat food in bulk can help you save money! This is because most goods have a lower price when bought in larger quantities. So, when you are going to stock up on cat food, try and get the most amount of tins or the biggest bag that you can find (and afford in one go) to save you some time and money.
Remember: Some cat foods can be frozen to help ensure no food goes off by the time you get around to using it. Always check the label to make sure it's safe for home freezing.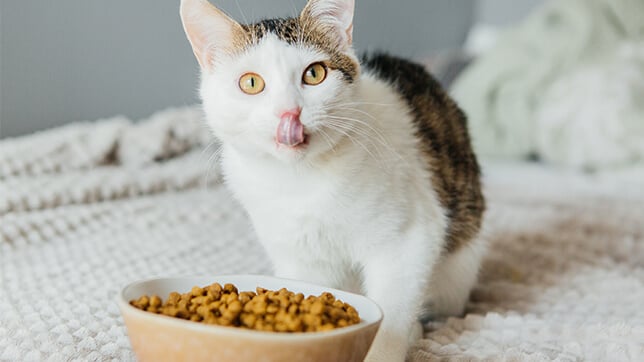 Look at subscriptions
Pet food subscription services can be a brilliantly easy way for you to get regular top-ups of your cat's food delivered directly to your door! Many of these brands offer tailored plans to suit your cat's needs depending on age, diet and health.
Here are just some cat food subscription sites:
Tails.com
Blink!
Bella & Duke
KatKin
You might even find introductory deals on these subscription sites, potentially saving you even more money than when buying as a single order online or from the shop.
Buy bigger bags
Small bags tend to work out much more expensive than bigger bags if you compare per kg (this information is usually found on the shelf). You can buy large bags of kibble online and have them delivered to your home if you might struggle to get them from the shop as they can be quite heavy to carry.
Shop around
When shopping online, don't forget to browse different sites and compare the prices of their products. You could even temporarily change brands if you're able to do so without compromising your feline's health and nutrition.
Switch their diet to cheaper cat food
You might want to consider changing your cat's diet type if you're able to do so while still meeting their needs as some diets can be considerably cheaper than others.
For example: If you're currently feeding your cat a raw food diet you could try them on a dry diet until the cost of living improves.
Change their treats
You don't have to buy your cat expensive treats to keep them happy. Cheaper treats don't necessarily mean that they are of a lower quality, so be sure to look at the different types available or why not even try making your own cat treats?
Homemade cat food may be cheaper
If you are struggling to get your hands on your cat's favourite meal or if you're a few days away from pay day, you could offer your cat some safe alternatives to ensure that they're kept happy and healthy.
Keep your cat hydrated
Making sure your cat has constant access to cool, fresh water can help keep your costs down as dehydrated cats are likely to want to eat more wet food.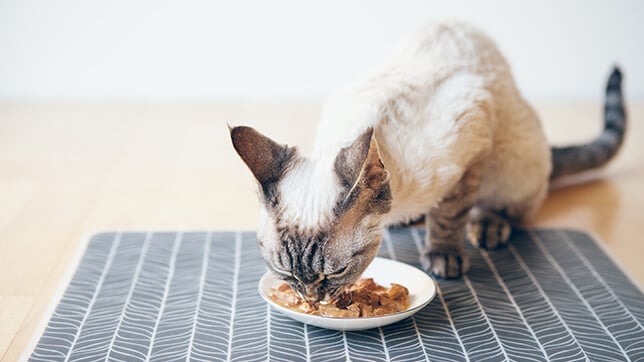 Make the most of discounts
Cutting coupons from newspapers or finding discounts online can also save you money on cat food. You could also try checking your favourite petfluencers to see if they're sharing any exclusive discount codes for some handy feline brands!
Make sure you check for expiration dates so that you don't miss out on any deals!
Whatever you decide to do to save some cash while feeding your cat, it's always important to ensure that they're still getting the nutrition they need from the food you buy. As an Animal Friends customer, cat policyholders can speak to veterinary experts at Joii for free about their cat's diet, through the Joii Pet Care app.
Learn how to feed your cat with the food you already have in your fridge or cupboard!
We've written some handy cat advice guides, to help you unlock the secrets of your mysterious moggy.
Cat insurance can help cover the cost of veterinary treatment if your cat gets injured or falls ill.
We know pets
Animal Friends Insurance is a multi-award winning FCA-regulated pet insurer, founded in 1998 to provide industry-leading pet insurance and first-class animal care to create a better life for every animal.
As one of the UK's largest pet insurance providers, Animal Friends works with vets, veterinary professionals, and partners pioneering the latest veterinary technology & healthcare advancements to achieve our vision.
Our policyholders have helped donate over £7.8 million to more than 700 animal charities worldwide and by educating and inspiring others to act on current events and responsible pet ownership, Animal Friends is driving positive change for animal welfare and conservation.