14th April 2022
We are excited to be sponsoring the first ever Goodwoof festival, where we'll be celebrating all things dog and we'd love you to come with us! Taking place on Saturday 28th and Sunday 29th May 2022 within the beautiful grounds of the Goodwood Estate, it's sure to be a pawsome weekend for humans and their canine companions.
What is Goodwoof?
Goodwoof is a spectacular new event dedicated to our dogs and will feature a fantastic line-up of activities to keep dogs and their owners entertained! From competitions and demonstrations to expert talks and yummy treats or play and pampering, there's something for everyone as part of this fun-filled weekend in West Sussex.
Why we're sponsoring Goodwoof
We're so excited to be partnering with Goodwoof for their premier canine event and helping deliver days of fun for dog owners so that pet parents just like you can create lasting stories with their best friend.
What's on at the Have-a-Go arena?
Come and see us at the Have-a-Go arena where you and your dog can take part in a number of activities, with something to suit all energy levels! Whether that's getting ready for a CaniCross run, attempting the Flyball hurdles, catching Frisbees, exploring the Agility course or racing with your pooch in The Fastest Dog 50-metre dash.
While the event is for one weekend only, the memories you make will be forever. So, what are you waiting for? Buy your tickets and come and find us there at the Have-a-Go arena!
If you found this article useful, why not visit our dog blog for more news, insight and opinion pieces?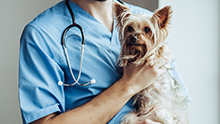 Dog insurance can help cover the cost of veterinary treatment if your dog gets injured or falls ill.