15th December 2022
Seek the right care at the right time – when to use online vets
For many of us, our pet is an integral part of family life, providing comfort and company when we need it most. The cost-of-living crisis is forcing people to make impossible sacrifices and difficult decisions, including in relation to their beloved pets.
Over the recent months, the vets at Joii have seen a concerning increase in the number of pet parents having to choose between veterinary care or their other household essentials, such as heating bills and food. What this has meant is that some owners are leaving problems with their pets for longer in the hope that the problem will clear up on its own. Sometimes this can happen, but the longer a condition is left untreated the harder and more costly it can be to treat.
Here at Animal Friends, we know just how important your pet is which is why we want to make sure you know how to use the benefits available to you as a customer and seek the right care at the right time, helping you save money in the long run.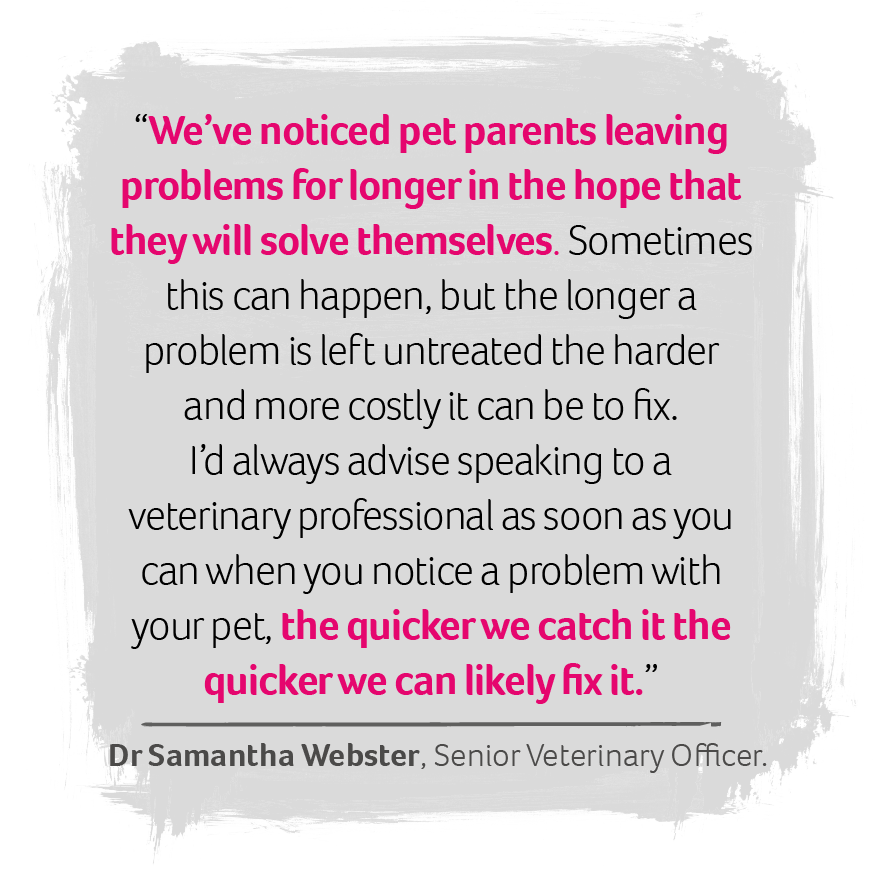 More owners seeking cheaper treatment
Dr Michaela Cragg told us that the vets at Joii are seeing the first-hand effects these decisions are having:
"We are seeing higher numbers of animals coming through to our telemedicine calls that are not appropriate to be handled remotely and should be seen in-person as an emergency. This is despite in app warnings advising owners to make appointments with their in-person vet. This speaks volumes about the pressure some people are under at the moment to find cheaper alternatives. Some people are phoning us in tears because they cannot afford the Out of Hours vet fees and are desperate for us to either treat their pets remotely or at least manage them until they can get into their vets during normal hours."

Top 5 things a remote vet can support
Vet experts at Joii have provided a guide as to which familiar problems could be assisted by a call to an online vet:
1. Tummy upsets
The most common causes of vomiting and diarrhoea are easily treatable at home with online vets able to help you with the right dietary and supplement advice to help your pet recover quickly. They can also assess your pet and let you know if they see any signs that may need in-person treatment by your local vet, such as dehydration.
2. Skin problems
From ongoing allergies to bee stings to wounds, online vets can help! Lots of mild skin problems can be treated with over-the-counter topical products. Let them help you find the right one to help your pet.
3. Poison enquiries
Did your pet eat something they shouldn't have, or do you suspect they stole a treat that's toxic for them? Want to know if you should be worried about it? Give your online vet a call! From stolen chocolate to half eaten houseplants, they can tell you the best way to handle your pet.
4. Behaviour & training
Got a training problem with your puppy? Has your cat started talking to you more than usual? Let an online vet help you, and if the vet team can't solve the problem, then the behaviour and training team surely can.
5. Diet & nutrition
Not sure what to feed your pet? Maybe you have a fussy eater on your hands. Or you're looking for a cheaper food (no judgment here) that still meets all your pet's nutritional needs. Speak to an online vet nursing team to help you have peace of mind and your pet to have a happy tummy.
Remember: If you run out of dog food and can't get to the shop, you can use these safe alternatives to dog food.
Top 5 ways to keep costs down for pet care
1. Prevention over cure
Preventative medicine may have an upfront cost, but it can save you a fortune in the long run. Keep your pet up to date with vaccinations as well as regular prevention for fleas, ticks and worms can help prevent potential problems from starting and make sure your pet stays happy.
2. Pick your food carefully
There's an enormous range of pet foods on the market these days, some with larger price tags than others. Dry foods may seem more expensive, but typically tend to cost less per day to feed your pet than canned, raw or frozen options. We also recommend buying in bulk where you can as larger bags tend to work out costing less per day than smaller ones.
Remember: The most important thing is to ensure your pet has a balanced diet that meets all of their nutritional needs and meets the calorie intake requirements for your dog.
3. DIY pet care
We all love to spoil our pets, but you can cut back on some services by doing it yourself. Try bathing and brushing your pet more regularly to cut down on trips to the groomer or form a pet sitting group with your neighbours, friends or family so that you don't need to hire professionals. You could take it in turns with dog walking, too!
4. Buy prescription medications online
Vet practices don't buy in bulk and get the same deals as online pharmacies, so the medications they sell you can be more expensive than the ones you find online. Ask your vet for a written prescription if you think you can get your prescription medications cheaper from an online retailer.
Good to know: Your vet will charge you for this service so be sure to compare the medication prices with this cost included. And don't forget about any postage that you may need to pay, too!
5. Brush your pet's teeth
One of the most common problems seen every day in veterinary practice is dental and gum disease. The procedures to properly clean your pet's teeth can be costly since they need anaesthetic.
Avoid them altogether by brushing your cat's teeth or dog's teeth daily. There are a range of products on the market to make this process more enjoyable, from meaty flavoured toothpastes to finger brushes.
24/7/365 with the Joii app.
Our partnership with Joii Pet Care gives Animal Friends policyholders free online veterinary help, whenever and wherever they need it. Download the Joii app today. T&C's apply
If you found this blog useful, why not visit our animal welfare blog to find more articles about animal at risk around the world?
From news and facts, to charities helping protect animals and the great work they do - find out more about animal welfare and those making a difference.
We know pets
Animal Friends Insurance is a multi-award winning FCA-regulated pet insurer, founded in 1998 to provide industry-leading pet insurance and first-class animal care to create a better life for every animal.
As one of the UK's largest pet insurance providers, Animal Friends works with vets, veterinary professionals, and partners pioneering the latest veterinary technology & healthcare advancements to achieve our vision.
Our policyholders have helped donate over £7.8 million to more than 700 animal charities worldwide and by educating and inspiring others to act on current events and responsible pet ownership, Animal Friends is driving positive change for animal welfare and conservation.