Jack Russell Terrier breed guide
Height
Up to 14.04 inches (to shoulder)
Weight
Males and females up to 17.6lbs
Lifespan
13 to 16 years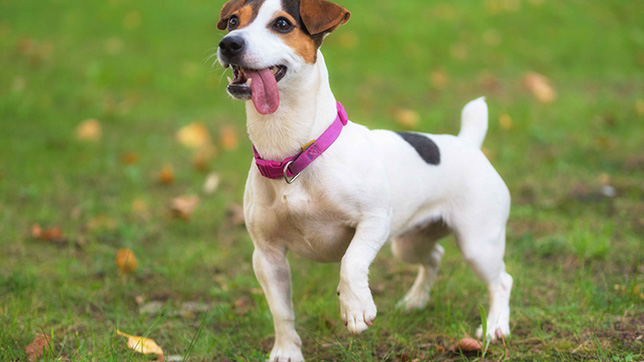 History
The Jack Russell Terrier was first bred by a reverend named Jack Russell towards the end of the 19th century, after wanting a small dog to hunt foxes. However, the Jack Russell Terrier was not recognised as a distinct breed until the 1850s.
These days, they look very similar to the ones originally bred by Russell, although they tend to be taller than standards from the American Kennel Club.
Following the First World War, the breed declined due to the lower need for a hunting dog. However, the breed has proven to be a great choice for families looking for a friendly and loyal dog in more recent years.
Appearance
Jack Russell Terriers are relatively small but have a strong, brawny build. They have a short snout and their head is flattened between the ears.
Often recognised by their wiry and thick fur, Jack Russell Terriers usually have hair that is mainly white in colour, although they can feature patches of fawn, yellow or black on their head and tail.
Because of their thick fur, they need to be brushed throughout the shedding period. It's also recommended to get their fur cut if it's especially harsh.
Temperament
Making an excellent companion dog, the Jack Russell Terrier is an intelligent and brave pet. They have been described as skilful and eager, as well as reckless. They love to take part in agility and flyball games and require a lot of exercise due to their bundles of energy.
This type of dog is sociable and enjoys interacting with other dogs with whom they generally get along well, providing they socialise from an early age.
Things to watch out for
Jack Russell Terriers are intelligent and very eager to learn, making them quick to train. However, they have a willingness to be independent so the breed is recommended to people with dog training experience.
Although this breed is loyal and enjoys playing with children, Jack Russell Terriers can be a bit unruly and snap unexpectedly.
Because these dogs can become easily bored, they may become moody and destructive when not stimulated for long periods of time. Because of this, it's important that they have an owner that dedicates time each day to exercise and play with them.
Is a Jack Russell Terrier for me?
If you're looking for a loving dog that will enjoy accompanying you on walks, then a Jack Russell Terrier may be the perfect breed for you!
Well suited to homes with older children that can understand the requirements of a Jack Russell Terrier, the breed is a fantastic option for owners who can dedicate time to training and socialising a small, playful dog.
Did you know?
Jack Russell Terriers have a reputation for being extremely healthy and having a long lifespan.
We offer insurance for Jack Russell terriers from just 4 weeks old; check out our dog insurance page to learn more.
Find the information you need as we support you through every step of your journey with your canine companion.
Dog insurance can help cover the cost of veterinary treatment if your dog gets injured or falls ill.
We know pets
Animal Friends Insurance is a multi-award winning FCA-regulated pet insurer, founded in 1998 to provide industry-leading pet insurance and first-class animal care to create a better life for every animal.
As one of the UK's largest pet insurance providers, Animal Friends works with vets, veterinary professionals, and partners pioneering the latest veterinary technology & healthcare advancements to achieve our vision.
Our policyholders have helped donate over £7.8 million to more than 700 animal charities worldwide and by educating and inspiring others to act on current events and responsible pet ownership, Animal Friends is driving positive change for animal welfare and conservation.