1st September 2023
Dog-friendly summer bucket list
Summer is the perfect season for spending quality time with our canine companions! Thanks to our dog-friendly summer bucket list, you won't have to miss out on any amazing activities…
✔ Take them out for doggy ice cream
Have you ever shared a dog-friendly ice cream with your pup?
Whether you want to visit a dog-friendly ice cream parlour or buy doggy ice cream for your best fur-iend to eat at home, there are so many options!
A selection of shops, cafés, and parlours offering dog-friendly ice cream in the UK:
• Long Dog Café, Aberdeen
• Dyffryn Gardens, Cardiff
• Bidlea Dairy, Cheshire
• Frederick's Ice Cream, Chorley
• The Crib Shack, Cornwall
• Baskervilles Ice Cream Parlour, Devon
• Southsea Beach Café, Hampshire
• Scoop Ice Cream, Herefordshire
• The Tea Garden Café, Mallaig
• Belle Vue Park, Newport
• Wells Beach Café, Norfolk
• Tammi's Ice Cream Parlour, Rutland
• Rays Ice Cream, Wiltshire
• Cobbs Farm Shop, Winchester
• Brymor Dairy, Yorkshire
Remember: Several ingredients in human ice cream – like chocolate, for example – can be toxic to dogs so don't be tempted to give into the pleading puppy eyes. If you think your dog might have eaten something that isn't safe for them, please contact your vet.
✔ Have a picnic with your pup
If you don't fancy venturing far to make magical memories with your dog, why not have a picnic in your local park on a glorious, summer's day?
To make your picnic pup-friendly, there are lots of different doggy treats and snacks you can create at home. Our selection of Five tasty homemade dog treat recipes is a great place to start when searching for dog-safe snack ideas!
For tips on keeping your dog safe while enjoying a summer picnic, you can visit our Dog-friendly picnic guide.
✔ Go on a road trip with your dog
Em-bark-ing on adventures around the country with your canine companion is an amazing way to make memories with them. Road trips gives you the freedom to enjoy the great outdoors without having to leave your pooch behind.
Want to sniff new scents with your dog? Our collection of articles about Travelling with your dog can take the stress out of your summer travels!
✔ Visit a dog-friendly beach
Is there anything more calming than feeling the Sun's warmth, while listening to the swoosh of the sea, as you sink your toes into the soft sand? That is, until your dog races across the beach to start frantically digging a hole, only to end up flicking sand over someone else's blanket full of food.
Make the most of blissful moments with your precious pooch and visit a dog-friendly beach this summer!
Just a few of the dog-friendly beaches dotted around the UK:
• Fistral Beach, Cornwall.
• Harbour Cove, Cornwall.
• Rossglass, County Down.
• Seacliff Beach, East Lothian.
• Cuckmere Haven, East Sussex.
• Barmouth Beach, Gwynedd.
• Milford on Sea, Hampshire.
• West Beach, Kent.
• Holkham Beach, Norfolk.
• Clachan Sands. Outer Hebrides.
• Marloes Sands, Pembrokeshire.
• Balnakeil Beach, Scottish Highlands.
• Weston-super-Mare, Somerset.
• Rhossili Bay, Swansea.
• North Beach, Tyne and Wear.
Discover tips about protecting your dog at the beach in our Sand ingestion and impaction in dogs article.
✔ Make cooling canine treats
Beat the heat by making delicious, cooling treats for your dog – which can be just as fun for you as it is for them!
Visit our guide to learn how to Make your own frozen dog treats or pop over to Dogs Trust for their Dog-friendly summer snack recipes. For more ideas to keep your dog comfortable in hot weather, visit our Hacks to cool your dog down this summer.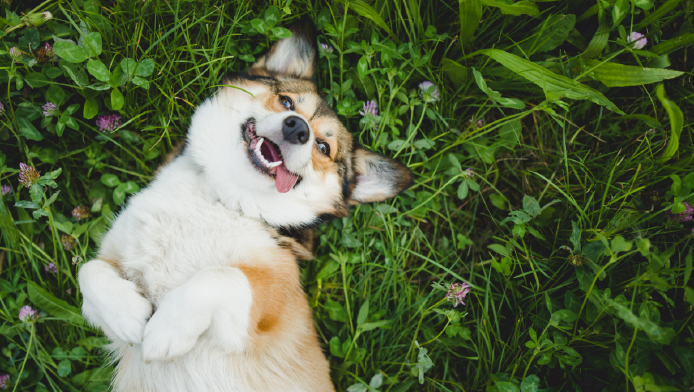 ✔ Use a new snuffle mat
Our great British weather isn't always so great. For those times you don't fancy braving the rain for longer than a walk, a 'snuffle mat' is a fantastic way to keep your pup entertained!
The purpose of a snuffle mat is as an enrichment toy to engage your dog's natural instincts, by hiding treats within a collection of fabrics. You can either buy a new snuffle mat from a local pet shop or make one yourself. If you'd like to get crafting, the Blue Cross has created a brilliant guide about How to make a snuffle mat.
✔ Play hide 'n' seek
Hide 'n' seek is a terrific game your whole family can enjoy! Someone could keep hold of your dog while you hide, then let them go when you're safely hidden somewhere. As soon as your dog finds you, they deserve plenty of praise for being so clever.
✔ Book a pup photoshoot
You could book a beautiful photoshoot with your best fur-iend! There are many talented pet photographers around the country. To find a fantastic, local pet photographer, you can use this Bark search for free.
If having your photo taken isn't your thing, and you would prefer to picture your pet yourself, take a look at our Top tricks, hacks and tips on taking photos of your pet.
✔ Enjoy a dog-friendly hike
Getting outside to enjoy the beauty of nature can be as rewarding as it is refreshing. Travelling along mountainside tracks - beneath an arch of ancient trees, while surrounded by birdsong - can have a magical effect on our physical and mental wellbeing. The same goes for our dogs.
Hiking offers more than just extraordinary views across glorious landscapes; it provides exercise and an experience unlike any other for your dog. While hiking with your best fur-iend, they can supercharge their senses as they explore new sounds and smells in an exciting environment!
You'll find some ideas for fabulous places to visit around the country in our article about Top 10 dog walks in the UK.
Consider checking out our guide about Walking your dog in hot weather, to keep your canine companion happy and healthy while hiking.
✔ Throw a pup party
Does your dog celebrate their birthday (or adoption day) in the summer? Due to being sociable animals, dogs benefit from spending time with fellow friendly canines. Throwing a party for your pooch is a lovely way to celebrate their pawesomeness!
Discover this excellent Dog birthday cake recipe from Battersea Dogs & Cats Home or have a go at creating your own Pet-friendly pancakes, to make your pup's party extra special.
✔ Try SUP with your pup
'SUP' stands for 'Stand Up Paddleboarding' . Paddleboarding with your pup is likely to be an adventure on water, as you explore the world on a large inflatable or hard board.
To enjoy doggy paddleboarding safely, your dog must:
• Be a confident swimmer.
• Wear a life jacket or personal floatation device (PFD) with a handle, to keep them safe while out on the water.
• Have access to fresh drinking water, to prevent them from trying to drink the water on which you're paddleboarding.
• Understand your commands, because being able to respond to what you're asking of them is important for their safety.
• Feel comfortable on a paddleboard before entering the water.
Top tip: Take treats and a canine first aid kit with you while you try SUP with your pup!
You can visit our Activities: the dog owner's guide to find out more about what you'll need to do and pack in preparation for paddleboarding with your canine companion.
✔ Dance with your dog
Dancing with your dog is a wonderful way to bond with them and learn a new skill together; it's also fantastic fun! To learn more about this fabulous canine sport, you can visit the UK's official Heelwork to Music website. Or… why not freestyle and see where the music takes you?
For extra guidance on protecting your dog while spending quality time together, check out our tips to keep your pets safe this summer. We hope you have a wonderful time making memories that last forever.
Read more news articles, opinion pieces, reviews and personal stories behind our dogs on our blog.
Dog insurance can help cover the cost of veterinary treatment if your dog gets injured or falls ill.
We know pets
Animal Friends Insurance is a multi-award winning FCA-regulated pet insurer, founded in 1998 to provide industry-leading pet insurance and first-class animal care to create a better life for every animal.
As one of the UK's largest pet insurance providers, Animal Friends works with vets, veterinary professionals, and partners pioneering the latest veterinary technology & healthcare advancements to achieve our vision.
Our policyholders have helped donate over £7.8 million to more than 700 animal charities worldwide and by educating and inspiring others to act on current events and responsible pet ownership, Animal Friends is driving positive change for animal welfare and conservation.